Facebook
Facebook and privacy: an insurmountable contradiction?
Not that new at all: the Facebook badges. The, in German, Facebook badges come across us mainly in the groups. That Facebook with falling interaction rates (despite the continuing increase in user numbers) is not new and has been discussed several times, one of the main reasons, according to many experts, is the increased sensitivity towards one's own data and privacy.
Homely feeling and security in groups
This is exactly what the group took as an opportunity to reflect on the groups, because: These tend to suggest one among like-minded people Feeling of security and closed space - We don't really believe whether this is really the case, because the exchange still takes place on Facebook. Be that as it may, in order to make activities in Facebook groups more attractive, their interface has been revised and, among other things. the badges came out as well.
Sabrina has done that before in this article Top fan badge presented, which you can partly manage on the site and which is also helpful in community management, since you can only target these fans explicitly.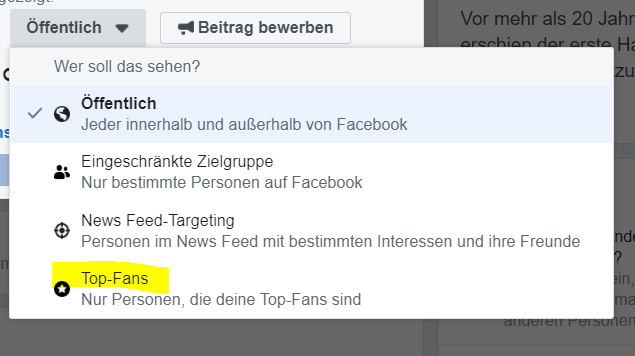 Post exclusively for top fans of a site
The Facebook group badges
But now to the badges in the groups: there are various badges that a member can earn. It's about them, of course Increase in engagement, because after all you want to live up to the badge, once it has been awarded. You can also wear several badges at the same time.
On this page, Facebook explains which badge is awarded based on which activities, e.g. you become a visual storyteller as soon as the person has shared a photo or video that particularly interested many others (interactions under the post). For the sake of completeness, here is a list of all possible group badges:
Admin and moderator
New member
Group anniversary
Conversation starter
Founding member
Conversation Booster
Visual storyteller
Greeter
Link curator
Rising Star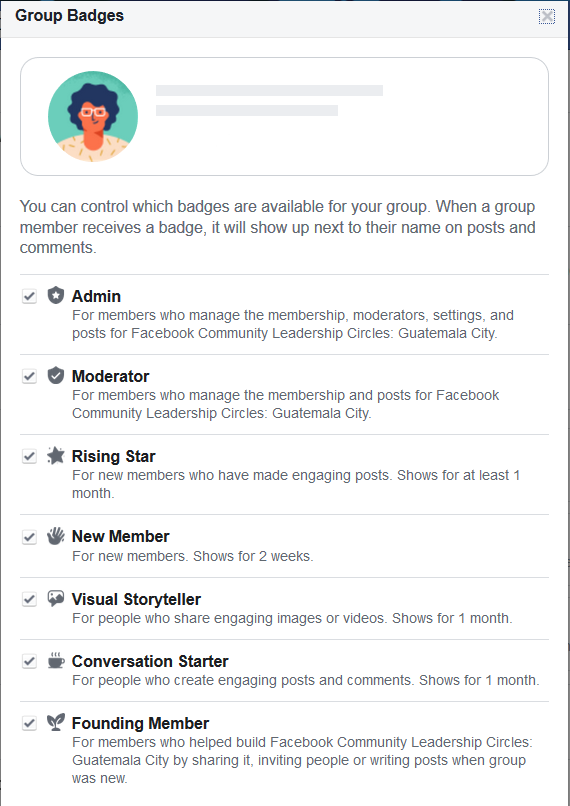 The group badges | Source: https://www.socialmediatoday.com/news/facebook-adds-more-page-badges-to-encourage-engagement/561625/
And these are the facts about the group badges:
Badges are available in groups of 50 or more members
The admin decides which badges are available and only members can see them
The badge appears right next to a member's name in group posts, comments, and on the member's profile
How do you use groups as a company?
All of this should, according to Facebook, the Community building and also serve the dynamics and recognizability in the groups. As an agency, we are often in conflict as to whether we are a) allowed to join groups - not everyone allows this, and when this is done, whether b) posting is allowed - of course everyone can delete admin posts or you should contact the guidelines adhere to what can be posted and how often. But nevertheless we finally know that the members notice very quickly whether there is a contribution from another page offer added value at all or show hidden advertising. How do you deal with Facebook groups in the company: do you use them, and if so, how?
The following two tabs change content below.
Since 2018 I have been supporting the click accomplices in the field of online marketing. Assisting the management is also one of my tasks, which is why I sometimes use admin / office topics on the blog. Happy reading!