Wear a scarf out of style
Tie a scarf: 3 stylish wraps
How do you wear the scarf correctly? Tie it around your neck and you're done? Possible, but there are simple tricks and wrapping techniques to put a scarf in the limelight and at the same time spice up the outfit in a fashionable way. What they are and how they work:
1. Simple winding technology: the simple twist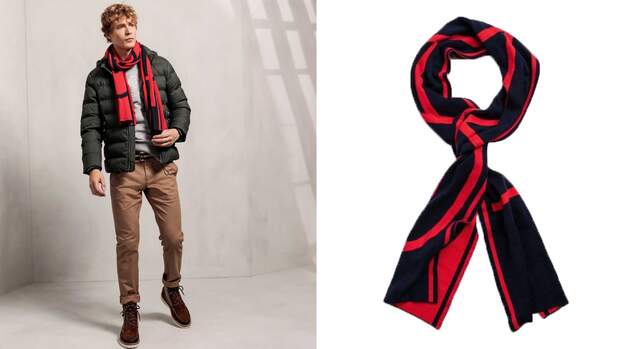 Gant / PR
Cotton scarf with graphic logo pattern from Gant, around € 70
Probably the best-known way of tying a scarf: put it around your neck from the front, cross it at the nape of the neck and put the ends forward. It also works the other way around: Place the scarf behind the neck, cross both ends at the front and pull it back over the shoulders. Small change, big effect - the scarf looks even more fashionable. You can buy the Gant logo scarf here.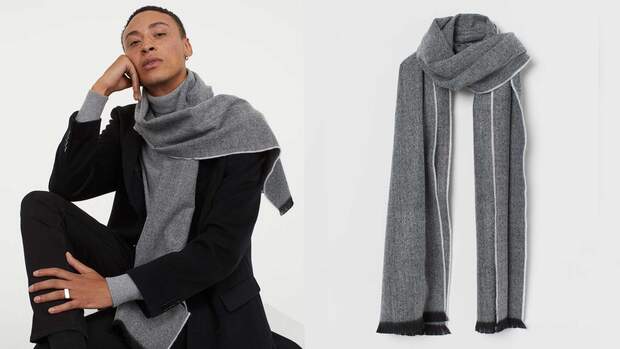 H&M / PR
Herringbone scarf from H&M, around € 10
Have you ever tried half the twist? Put the scarf behind your neck and only pull one end back over your shoulder. Wearing the scarf like this gives your outfit a chic, relaxed look. Very long scarves are best suited for this, as they look very classy when thrown over the shoulder. You can buy more gray, elegant scarves here.
2. With the loop technique, the scarf looks particularly casual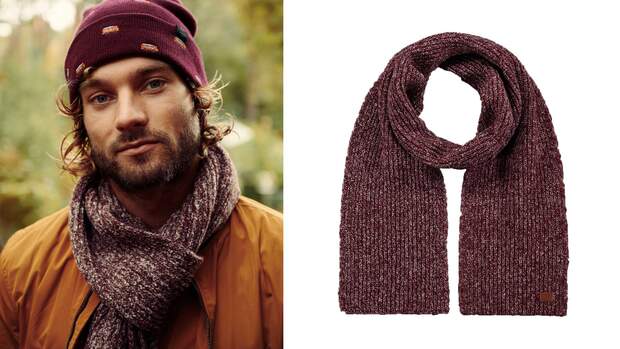 Barts / PR
Bordeaux-colored knitted scarf by Barts, around € 40
A very casual way to wear your scarf is the loop technique. To do this, fold it lengthways once so that it is double and only half as long. Then you hold the loop in one hand, the two ends in the other and put the scarf around your neck from behind. At the front you pull the two loose ends through the loop. Depending on your needs, you can now tighten the scarf, loosen it, drape it a little and you're done. You can buy more scarves from Barts here.
3. The scarf becomes a fashion piece simply by pulling it on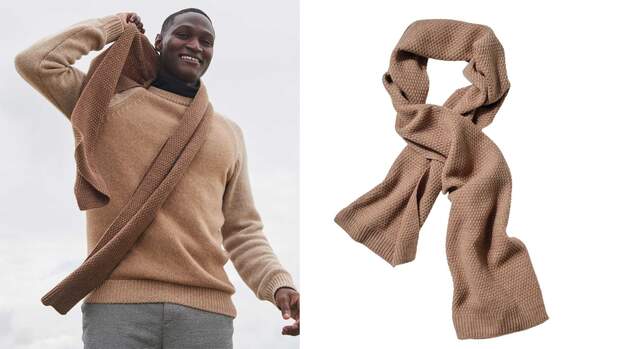 C&A / PR
Pineapple knit scarf by C&A, around € 13
Okay, this method might not really keep you warm - well, at least the neck - but it looks very stylish and is unbeatably simple: Put the scarf on the neck and let it fall asymmetrically over the chest so that one end hangs down significantly longer . Especially trendy scarves in bright colors come into their own. Here you can buy scarves in a neutral beige tone.
Wrapped Wrong? Not with you!
In the past, a scarf was more of a means to an end for many, today it is a fashion accessory. Just kind of wrapped around your neck, however, it quickly loses its effect. So it's good that you now know how to tie your scarf easily but stylishly. So nothing stands in the way of your cool winter look.
This article may contain links to providers from whom MEN'S HEALTH receives a commission. These links are marked with the following icon: