How do you make presentations really fast
Microsoft PowerPoint For me it is always a kind of test of whether you have mastered all the basics of marketing or whether there is still room for improvement in certain areas. Because for a successful presentation you have to have in-depth design knowledge and a certain amount of technical knowledge. The whole thing is rounded off by the personal touch.
Should it be with a Powerpoint presentation If there are problems (this could be an unwanted font, a broken link or illegible text), then I did not pass the test. Even the best speaker can quickly ruin the whole effect for their audience if the visual experience isn't right. So there is no point in just being an expert in one area. You should already know how to present this knowledge well.
A successful PowerPoint presentation depends - regardless of the topic - on three essential factors: How do you master them PowerPoint design tools? Be sure to structure your PowerPoint presentation uniformly and is coordinated? And have everything for that smoothCourse of your presentation planned?
Our simple ones Tips for creating a PowerPoint presentation help you with all of these points.
Tip 1: Stand out from the crowd with the design and structure of the PowerPoint presentation
Microsoft has made a wide range of options available to its PowerPoint users. But that doesn't mean you have to use them. Pay attention to the following things:
Think about whether a predefined PowerPoint design also really fits your topic and your message.
Avoid that if possible Standard fonts from Microsoft, Calibri, and Cambriabecause these two fonts will not make your presentation very convincing.
Professionals should never the sounds preset in PowerPoint use. (Please remember: Your presentation should be well received by the audience and not reflect your personal preferences.)
At PowerPoint will be bullet points automatically set. Therefore, before using it, ask yourself: Are bullet points the right choice for my presentation? Because that is not always the case.
A while ago, PowerPoint was made for everyone Forms a small shadow as a standard effect implemented. You should remove this shadow if it is not absolutely necessary. In addition, do not leave shapes in the standard blue shade, but opt ​​for a different, more individual color.
Tip 2: adjust the slide size individually
Most of the time it is Standard slide size the best choice. There is also rarer screen sizes, for which one should adapt longer presentations. This is how it works:
Go to "File" in the upper left corner.
Choose Page Setup.
Enter the desired height and width of your background and click on "OK".
A dialog box will appear. Click OK again.
Your background has been successfully resized.
tip: Resize your slides before adding objects. Otherwise it can happen that the objects are displayed distorted after this change.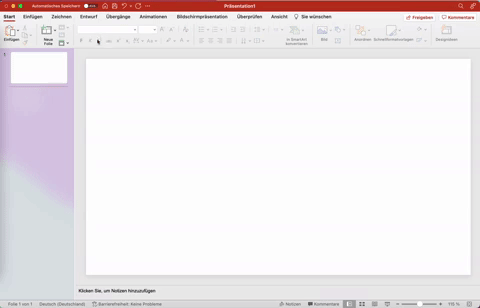 Tip 3: edit the template design of your slides
Often times it's a lot easier that Edit PowerPoint template, before you actually start creating your presentation. You don't have to manually change the design for each individual slide. That's how it's done:
Select "View" in the top navigation bar.
Click on "Slide master".
Make the changes you want and then click "Close master view". Now this template will be used for all existing and future slides in this presentation.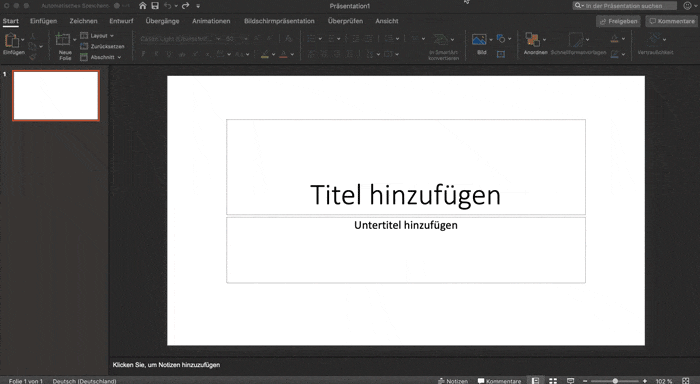 Tip 4: Make sure that all objects in the PowerPoint presentation are aligned evenly
A slide only looks really professional when the objects displayed on it are evenly aligned and arranged. you can Of course, try to arrange these elements manually, but most of the time this is not very promising.
Even if you manually move all of the objects to the center of the slide, they often end up not being arranged correctly - and your audience will notice! Do not guess any longer and use the function specially provided by PowerPoint for this purpose.
Alignment of multiple objects in PowerPoint:
Select all objects by holding down the Shift key and clicking each individual object.
In the upper options bar under the "Home" tab, select "Arrange" and then click "Align".
Select your preferred orientation.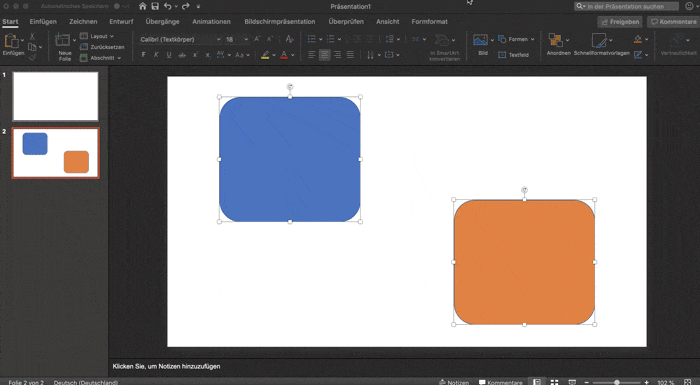 Alignment of objects on the slide:
Select all objects by holding down the Shift key and clicking each individual element.
In the top options bar under the Format tab, click Align.
Then select "Align to slide" out.
Then click again in the upper options bar on "Arrange" and then on "Align".
Select your preferred orientation.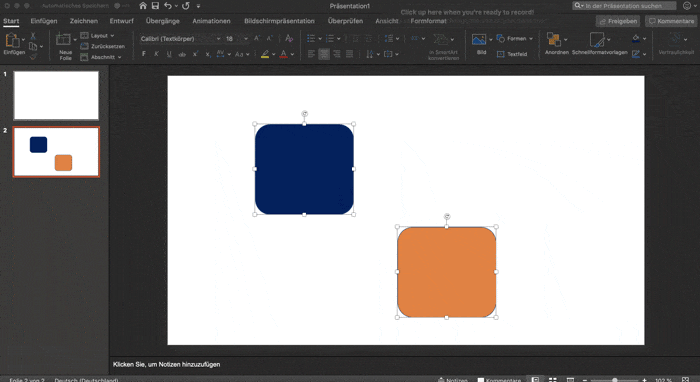 Tip 5: Use the "Format" option - this allows you to format your objects more flexibly
The Format option allows you to fine-tune things that would otherwise not be possible. To do this, right-click on an object and select the "Format" option.
There you can adjust shades, change the dimensions of the shapes, create reflections and much more. The menu opens in a new window and sees depending on the operating system and PowerPoint version something like this: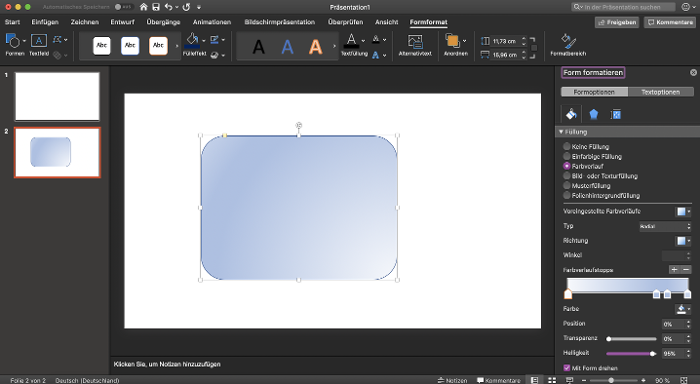 Under the "Format" tab you will of course also find all of PowerPoint's basic formatting options. Much more options are available in the detailed "Format" menu (can be called up by right-clicking over the object). Further options are for example:
Adaptation of a text field in a form
Creation of a natural perspective shadow behind an object
Manual color selection and automatic color presets
Tip 6: get creative with the Shapes tool in PowerPoint
Many users do not know how flexible the shape tool from PowerPoint has become. In combination with the extended format options that Microsoft brought out in 2010, you can create your own great variants away from the traditional rectangular, oval and rounded shapes.
You won't even find such a wide range of options in professional design programs such as Adobe Creative Suite or Quark.
The new shapes also offer a great one Smart Shapes function. This allows you to create diagrams and modern flow charts in no time at all.
These tools are great for getting the most out of a presentation visually. Paragraphs and bullet points are nice, but very boring. Use shapes to visualize your message in an appealing way.
Tip 7: create your own shapes in PowerPoint
To do this, after creating a shape, right-click on it and select "Edit Points". This is a great way to create custom shapes. For example, arrows can be precisely adapted to your desired dimensions.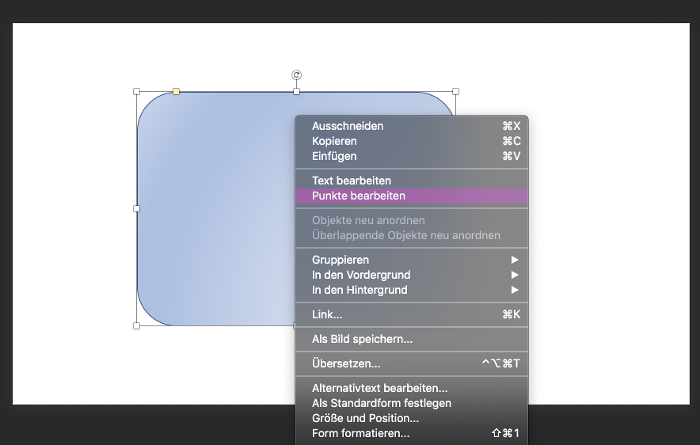 Another great feature is the merging of two shapes. To do this, first select two shapes at the same time and then right-click on one of the two shapes. In the "Group" submenu you will find a number of options:
Combine: Create a custom shape by cutting out the overlapping areas of the selected shapes.
Union: Create a completely connected shape from several shapes.
Form intersection: Create a shape that consists only of the overlapping areas of the previously selected shapes.
Subtract: Cut out the overlapping area of ​​one shape from the other shape.
These tools allow you to precisely create your own shapes without the hassle of editing points.

Tip 8: Crop your pictures yourself in PowerPoint
In addition to creating your own shapes in PowerPoint, you can crop existing images to create new shapes. This is how it works: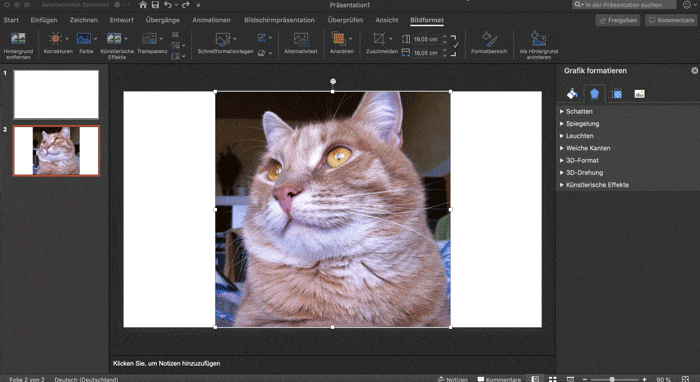 Click the image and choose Format from the Options Bar.
Click the Crop button, then click the Crop To Shape option. Now all you have to do is decide which shape you want. Finished!
Tip 9: show websites in PowerPoint
In the past, you would have simply set a link to a website and opened it in a browser during the presentation. For PC users, however, there is a better method.
With external software that can be completely integrated into the developer tab of PowerPoint, you can use a simple HTML iframe to create a Embed the website right into your PowerPoint presentation. The external software LiveWeb, published by independent developers, is best suited for this.
No more interrupting your PowerPoint presentation when using LiveWeb. That often seems unprofessional and quickly throws you off the mark. Whether you want to embed an entire webpage or just a YouTube video, this trick has a number of advantages.
Unfortunately, there is no similar option for Mac users. A good workaround is a screenshot of the website, a hyperlink to a browser, or embedding a media element (such as a YouTube video) that you have to download to your computer beforehand.
Tip 10: Embed your font files directly in PowerPoint
Time and again, users of PowerPoint are confronted with the problem that the font changes when they use a different computer. In reality, nothing changes in the font. Different font files are simply installed on the presentation computer.
If you are using a PC to create your presentation and you will also be giving your presentation on a PC, there is an elegant solution to this problem. (If you work on Mac systems, the problem is not that easy to solve. See tip number 11 for more information.)

This is how it works (this procedure only works on a PC): When saving your PowerPoint file, select the save options in the "Save as" dialog box. Then put a tick next to "Embed TrueType fonts" and confirm your selection with "OK".
The font file is now stored in your PowerPoint presentation and your fonts won't change when you're using different computers (unless you're giving your presentation on a Mac).
Tip 11: save your PowerPoint slides as JPEGs
PowerPoint for Mac 2011 does not yet have an option to embed fonts in the presentation. So, unless you're looking to use run-of-the-mill fonts like Arial or Tahoma, it is possible that your PowerPoint presentation shows different fonts on different computers.
This can be avoided by saving the final Presentation slides as JPEGs. Then just add these JPEGs to your slides. On a Mac, this can be done quickly and without long loading times thanks to drag & drop. If you're not using animation, this is a good solution.
Fall you one animated presentation you have to dig into your bag of tricks, however. To do this, save a separate JPEG for each "frame" of the animation. In your final presentation, all you have to do is display these JPEGs in the order you want.
Although you are technically using several new slides instead of a single one, your audience won't notice this trick.
Please note that a PowerPoint file with a lot of JPEGs is quite large.
Tip 12: Embed videos and audio files in your PowerPoint presentation
PowerPoint gives you the option to add links external video / audio files or embed the media directly in your presentation. We generally recommend the Embedding. However, if you work with a Mac, embedding is not possible (see note below). In the case of PCs, embedding is useful for the following two reasons:
Through the Embedding you can play media directly in your presentation. This looks more professional than switching between different windows.
If you have a Embed file, that automatically means that it always stays in your presentation without any additional effort (except for the Mac).
Note: PowerPoint users with a Mac operating system should be particularly careful when using multimedia files.
If you're using PowerPoint for Mac, you'll need the Always save the video or audio file in the same folder as the PowerPoint presentation (and therefore make sure that you always have this file with you). It is best to only add video and audio files after the presentation and associated folder have been saved to portable storage in the permanent folder.
If Mac users want to give the presentation on a Windows computer, they should also make sure to save the multimedia files in MWV format. The whole method is a bit complicated and not exactly user-friendly.
If you want to make sure you can Use PowerPoint effectivelyIf possible, you should use the same operating system for the creationanduse the presentation.
Tip 13: use your own laptop for the presentation
PowerPoint can react a little strangely with different operating systems. And even with different versions of PowerPoint, problems arise every now and then. These can be avoided if you use your own hardware. Just bring your own laptop for the presentation.
Tip 14: Use the "Presenter View" in PowerPoint
In most presentation environments, you work with a projector and your own screen that only you can see. PowerPoint has a great tool called "Presenter view". You can find it in PowerPoint 2010 (or 2011 for Mac) in the "Presentation" tab. There is an area for notes, a timer / clock and yours Presentation view.
Many speakers use this tool as a visual guide. Because a presentation that is read from a pile of sticky notes quickly appears unprofessional and not very convincing. The "speaker view" can help here.
Pro tip: At the beginning of the presentation, press Ctrl + H to hide the cursor. If you need it again, simply press the "A" key!
When you look at the three presentation modules Style, design and process Pay attention, you have a wide range of uses with PowerPoint. Always remember that PowerPoint and other similar slide making applications are flexible tools with lots of potential.
Header image: macniak / iStock / Getty Images Plus
Originally published April 13, 2021, updated April 20, 2021
Recommend this article: