Are union strikes justified
Work stoppage for everyone
Right to strike: who is allowed to strike and who is not?
The right to strike protects workers from employer sanctions if they participate in a legitimate strike. Almost everyone is allowed to strike, but the effects vary greatly from person to person. Participation in so-called "wildcat strikes" is forbidden for everyone.
Trouble with the boss? We'll help. >>
When is a strike legal?
The strike is a means of industrial action that is always justified when there is no other way to get a collective agreement. A legal strike must meet the following criteria:
• Organized by a union
• Pursuit of a tariff-adjustable target
• The target must be permitted by the collective agreement
• Compliance with the peace obligation
• maintains proportionality
• other negotiation options have already been exhausted
Who can strike?
Almost everyone is allowed to strike, as the right to strike is anchored in the Basic Law (Article 9 (3) of the Basic Law). Only participation in "wildcat strikes" that do not meet the criteria of legality is prohibited. If a union calls for industrial action, non-union members and trainees are also allowed to strike. According to Section 11 of the Temporary Employment Act (AÜG), temporary workers may no longer be used as strike breakers.
However, civil servants are excluded: They are allowed to organize themselves in unions, but since their employment contracts with the state are not negotiable under collective bargaining agreements, there is no legitimation for a strike. Officials can be released from duty if the striking union assigns them to the labor dispute as stewards.
What are the financial consequences of the labor dispute?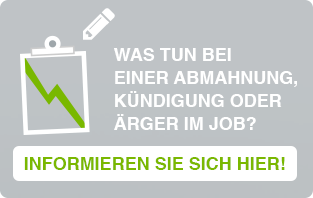 During the strike, the employment relationship is suspended: the employee is allowed to strike instead of working, but then does not receive any wages because he has not performed any work.
Members of the union receive strike money as support. The amount is a maximum of 2.5 times the monthly membership fee per full working day on strike. Non-union members do not receive strike pay or unemployment benefits.
Legal consequences of participating in the strike
A strike is not a violation of the employment contract. Termination, warnings or other sanctions by the employer are therefore not permitted. You have to make it clear that you are entering the labor dispute. The employer can later also ask who took part in the strike.
Please also read our legal information on the content.