How beautiful is your spouse 1
The most beautiful love sayings for invitations, congratulations and Co.
Image: © Depositphotos.com/AllaSerebrina
This large collection of the most beautiful love sayings is suitable for many occasions. Perfect as a proof of love for your loved one, as a guest book quote at the wedding, for the wedding newspaper or for the congratulations on the wedding card.
Anyone who is in love can express their feelings and dreams about the relationship in sweet words or write beautiful quotes about love and marriage on the wedding card for the bride and groom - we have some examples of love sayings for you here.
You are cordially invited to browse our love sayings overview!

In this article you will find the following beautiful sayings about love:
1. General love sayings & love quotes
2. Love sayings in English
3. Funny love sayings & wedding sayings
4. Love sayings "Love is ..."
5. Love sayings about the wedding
6. Beautiful gift ideas with love sayings
7. Wedding and love sayings Whatsapp
---
1. General love sayings & love quotes
Here we have put together some nice words for you, with which you can poetically express your feelings for your partner or spice up your wishes for the wedding. Love poems always make you smile.
The sum of our lives are the hours we loved.
(Wilhelm Busch)
The best gift is someone who takes you in their arms and says: Whatever happens, I am always by your side!(Unknown)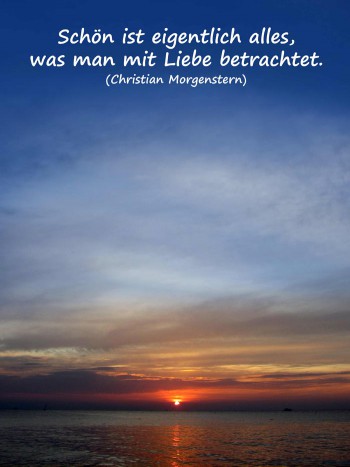 Everything that you look at with love is actually beautiful.
(Christian Morgenstern)
But the most beautiful thing here on earth is to love and to be loved.(Wilhelm Busch)
One can only see well with the heart, the essential is invisible to the eyes.
(Antoine de Saint-Exupery)
Like fire, love cannot exist without constant drive; she ceases to live as soon as she ceases to hope or fear. (François de La Rochefoucauld)
Life receives meaning only through love. That means: the more we love each other and are able to give ourselves, the more meaningful our life becomes.(Hermann Hesse)
You are only loved where you are allowed to show yourself weakly without provoking strength. (Theodor W. Adorno)
Love stops time and lets eternity begin. (Chuck Spezzano)
Let us be grateful to people who make us happy. They are the lovable gardeners who make our souls bloom.(Marcel Proust)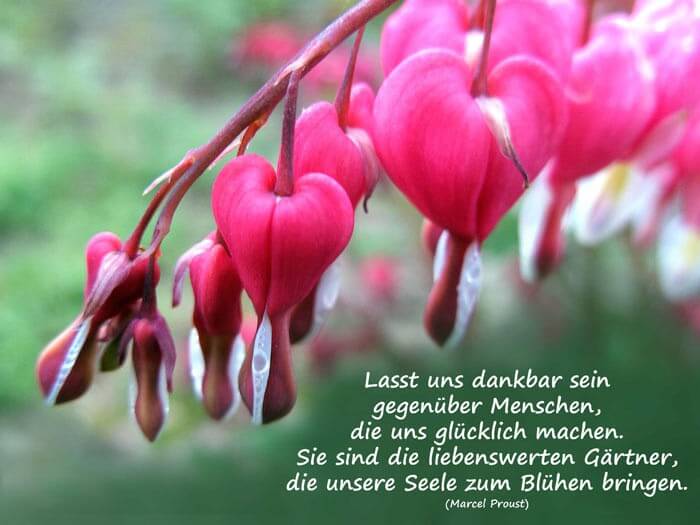 When two people start loving each other at the same time, that is great happiness.(Marie von Ebner-Eschenbach)
Our life cannot always be full of joy, but it can always be full of love. (Thomas Aquinas)
I go everywhere with you just never let go of my hand again!
A person is only really rich if he has the heart of a loved one.(Greta Garbo)
Where there is love, the impossible becomes possible.(Chinese proverb)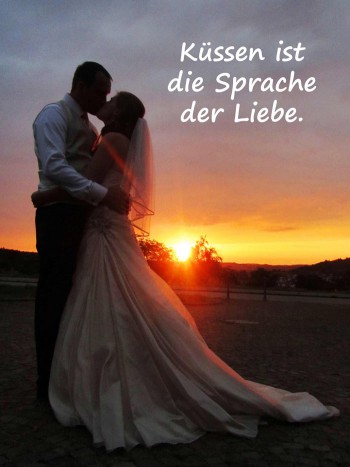 Kissing is the language of love. (Unknown)
Reason can only talk. It is love that sings.
(Joseph Marie de Maistre)
Whoever loves the other lets them count as they are, as they have been and as they will be.
(Michael Quoist)
Man lives not so much from the love he receives as from the love he gives.(Mother Teresa)
God is near where people show love for one another.(Johann Heinrich Pestalozzi)
The great happiness of love is to find rest in another heart.(Julie-Jeanne-Elénore de Lespinasse)
Love! The surviving gift from heaven, the most beautiful candy in paradise.(Thomas Campbell)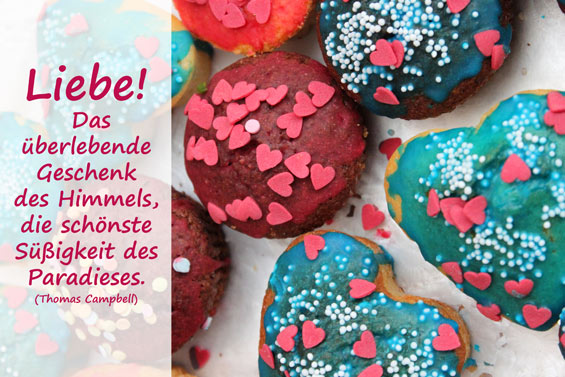 Devote yourself to love and cooking with all your heart.(Dalai Lama)
Clothes make the man but the heart makes man. (Unknown)
There is nothing like being loved. Loved for its own sake, or rather in spite of itself.(Victor Hugo)
To experience the full value of happiness we need someone to share it with.(Mark Twain)
There are moments in our lives when time and space become deeper and the feeling of existence expands infinitely.(Charles Baudelaire)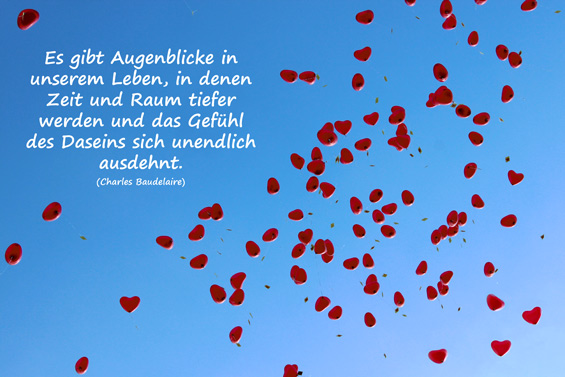 To love someone means to be the only one to see a miracle that is invisible to others.(Francois Mauriac)
After all, what better way to cope with life than with love and humor? (Charles Dickens)
It is not important which way you go, but with whom you go it!(Unknown)
Where it rains love, nobody wants an umbrella.(Wisdom from Denmark)
Life is not made up of the moments when we breathe, but of those that take our breath away. (from: Hitch - the date doctor)
Moments that touch our heart never get lost. (Unknown)
D.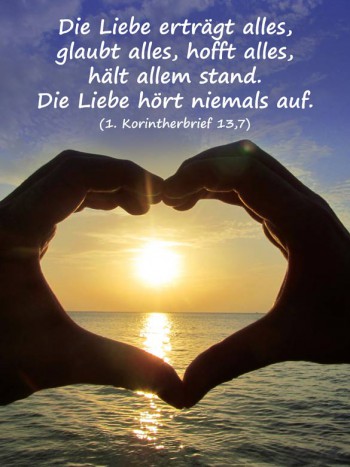 he love endures everything, believes everything, hopes everything, withstands everything. Love never stops. (1 Corinthians 13: 7)
Real love begins where no return is expected.(Antoine de Saint-Exupéry)
Happiness is love, nothing else. Who can love is happy.
(Hermann Hesse)
To know each other does not mean to know everything about each other, but to have love and trust in one another and to believe in the other.(Albert Schweitzer)
Is there anything more joyful than knowing someone you can talk to as you can talk to yourself?(Cicero)
Greater than all pyramids, than the Himalayas, than all forests and seas, is the human heart. It is more glorious than the sun and the moon and all the stars, brighter and more blooming. It's scary in his love.(Heinrich Heine)
Love always aims high. That is why it touches us so deeply.
(Ernst Ferstl)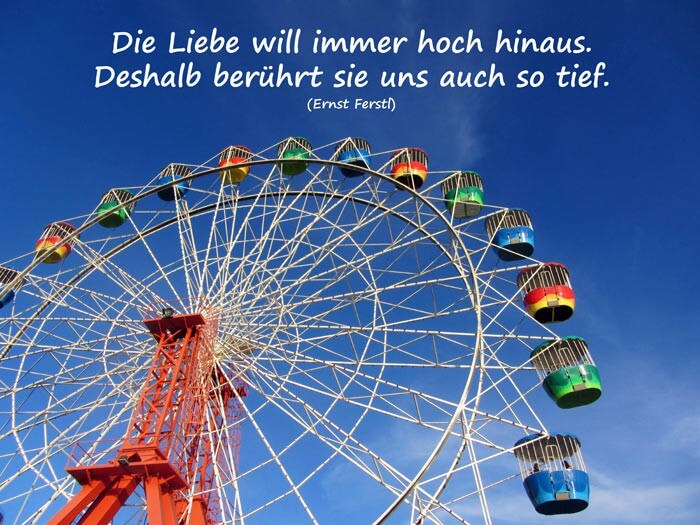 To love means to seek the happiness of the other.(Johannes Bosco)
True love consists of the harmony of thoughts and the contrast of characters. (Theodore Simon Jauffroy)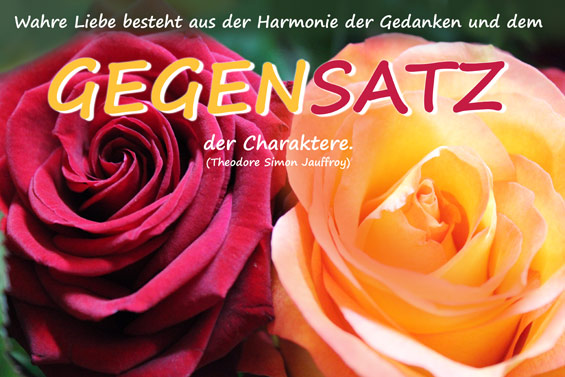 Wherever love is sown, joy grows.(William Shakespeare)
Only love knows the secret of giving gifts to others and getting rich yourself in the process.(Clemens Brentano)
Experience teaches us that love is not about looking at one another, but about looking in the same direction.(Antoine de Saint-Exupéry)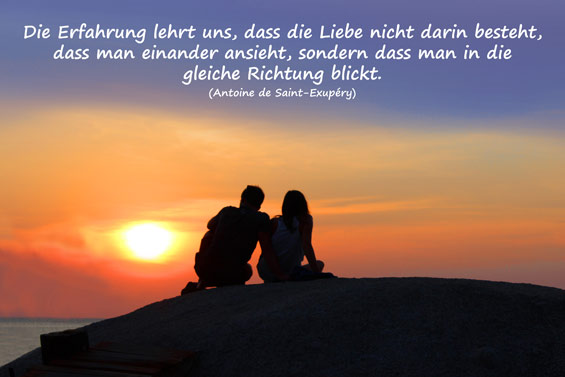 The true beauty lies in the spiritual harmony that can arise between man and woman and that is called love.(Khalil Gibran)
You are somebody to the world, but you are the world to me! (unknown)
When someone asks me at eighty who my great love was, I don't need to reminisce. I turn to you and say "Here she sits!".(Unknown)
When loyalty is fun then it's love! (Proverb from China)
---
---
2. Love sayings in English
A message of love is also beautiful in English. Ideal if the bride and groom or bride or groom are not from Germany.
Where there is love, there is life.(Mahatma Gandhi)
You know you're in love when you don't want to fall asleep because reality is finally better than your dreams.(Dr. Seuss)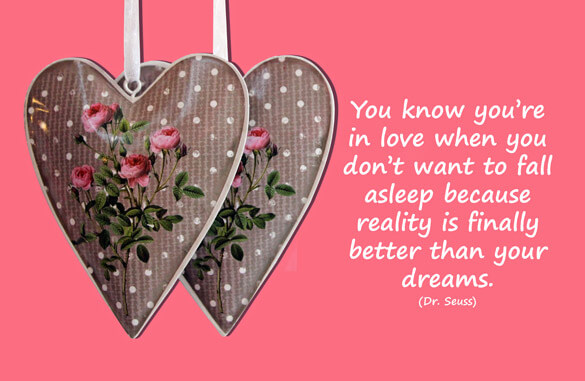 Remember that great love and great achievements involve great risk.(Anonymous)
Love doesn't make the world go round. Love is what makes the ride worthwhile. (Franklin P. Jones)
Love is real, real is love.(John Lennon)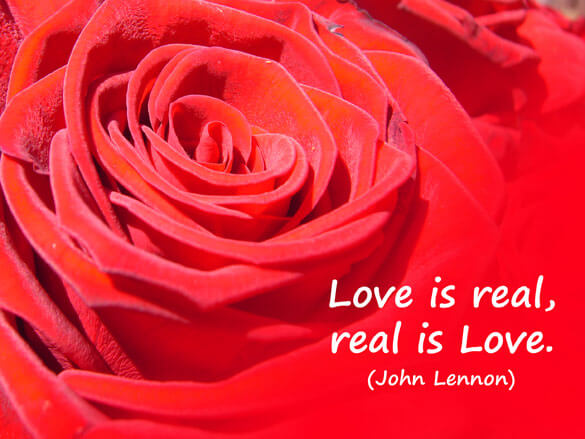 The only thing we never get enough of is love - and the only thing we never give enough of is love.(Henry Miller)
One man all by himself is nothing. Two people who belong together make a world.(Hans Margolius)
Only when we give joyfully, without hesitation or thought of gain, can we truly know what love means.(Leo Buscaglia)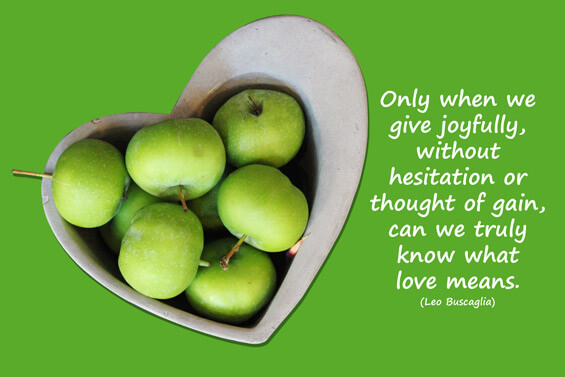 Love is a feeling that you feel, when you feel a feeling, that you never felt before.(Flip Wilson)
The best and most beautiful things in the world cannot be seen or even touched. They must be felt with the heart.(Helen Keller)
---
---
3. Funny love sayings & wedding sayings
Whether for a wedding, an anniversary or against lovesickness - a funny love quote cheers everyone up.
Love is as unproblematic as a vehicle. Only the handlebars, the passengers and the road are problematic. (Franz Kafka)
Men don't always have to understand their wives. A kiss is often enough as an answer.
Men have their pants on, but women say which ones!(Unknown)
The ideal husband: a man who treats his wife the same way he treats his new car.(Henry Ford II)
If a couple can renovate a home together without filing for divorce, it must be a happy marriage. (Jane Buck)
I think my first name goes well with your last name!
Women are the jewels of creation - you have to wear them with composure.(Heinz-Erhardt)
Marriage works best when both partners stay a little unmarried. (Claudia Cardinale)
The Secret of a Long Marriage? It's simple: you just have to find the right woman and get old enough. (Gordon A. Craig)
The happiest wife is not the one who married the best man, but the one who made the best husband out of the man she married. (André Maurois)
Marriage is like a full bath: Getting in is the most important thing. If you always keep her warm you can take it wonderfully, until you're all wrinkled. (Unknown)
A man without a woman is like spaghetti without parmesan.(Italian proverb)
I decide the big things and my wife the small ones. My wife determines which things are big or small.(Uwe Seeler)
---
---
4. Proverbs love is ...
The well-known and romantic "love is ..." love poems are simply beautiful! Perfect for your wishes for a wedding, a love letter or to counteract everyday life in the relationship.
Love is ... when two people know they belong together.
Love is to be at home wherever you are together. (This saying comes from Nicole K. and reached us via Facebook)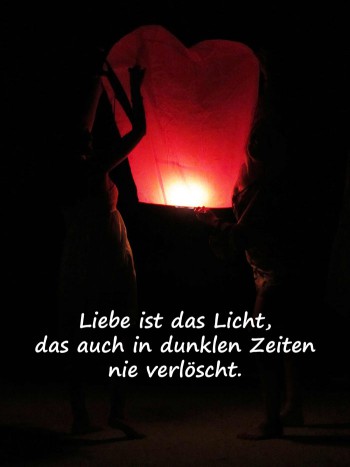 Love is the light that never goes out even in dark times. (Unknown)
Love is the child of freedom.(Wisdom from France)
Love is like a delicate flower that needs new care every day.(Unknown)
Love is the only key that can really unlock.(Otto Betz)
Love is ... thinking of someone without thinking.
(Karl-Heinz Deschner)
Love is not what you expect to get, but what you are ready to give.(Katharine Hepburn)
Love is like traveling through an unknown land. You have to have the courage to leave everything behind without knowing what lies ahead!(Unknown)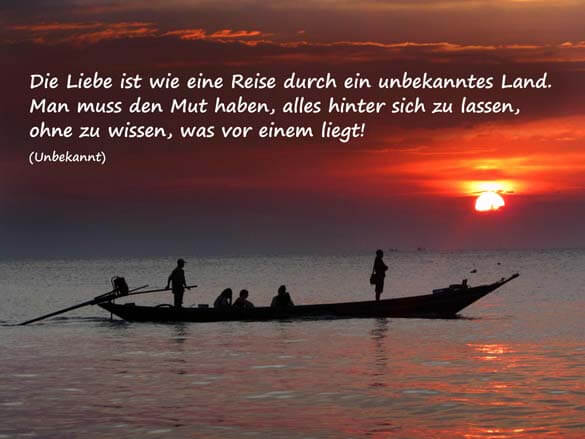 Love is being there for the other, even when they are unbearable.
Love is when you want to sing day and night. Without fee and manager.(Frank Sinatra)
Love is like a rainbow - it connects heaven and earth.(Unknown)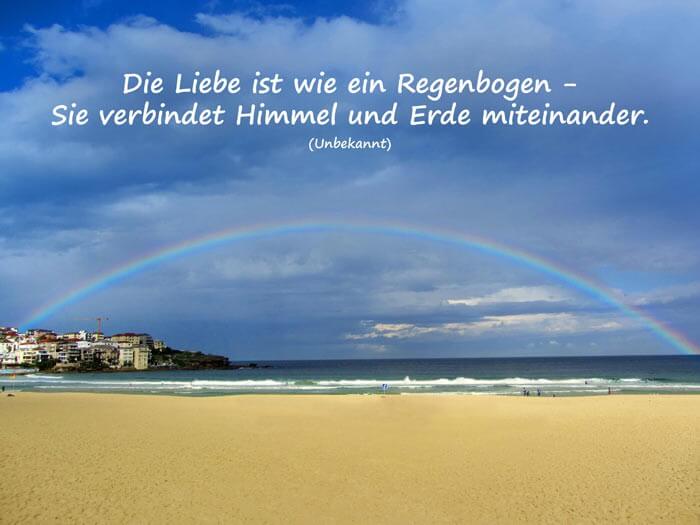 Love is the strongest power in the world, and yet it is the most humble force imaginable. (Mahatma Gandhi)
Love is the only thing that grows when you waste it.(Ricarda Huch)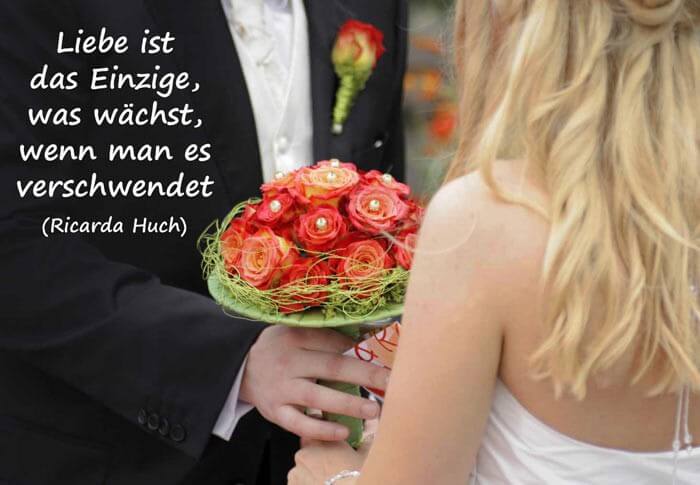 Love is… knowing each other as well as if you've been together for 100 years.(This saying comes from Barbora V. and reached us via Facebook)
Love is ... when the thought of one another makes you happy. (This saying comes from Tanja H. and reached us on Facebook)
Love is the determination to say yes to the whole of a person - the details may be as they want.(Otto Flake)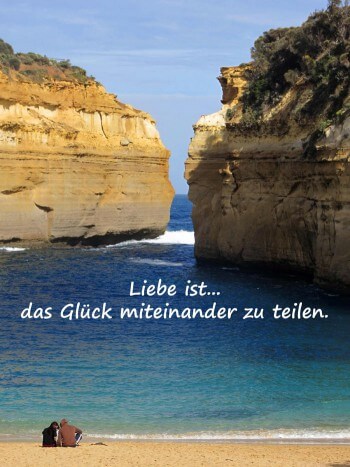 Love is ... sharing happiness with one another.(Unknown)
Love is… being grateful for every day that you can spend together.(Unknown)
Love is the key to harmony.(Sathya Sai Baba)
Love is the greatest unifying force in life.
(Martin Luther King)
Love is ... not to lose your sense of humor even in the worst chaos.(Unknown)
Love is a temporary mental illness that can be cured by marriage.(Ambrose Bierce)
Love is not one, but the only means to be happy.(Françoise Sagan)
What is love? Love is when ... Oh what! Love is love(Erich Mühsam)
Love is ... you & me (This saying comes from Susi M. and reached us via Facebook)
---
---
5. Love sayings about the wedding
A poem in which you choose nice words to express your feelings is perfect for your love message or a romantic love letter.
To be married means: To love and to be loved and to be a team - forever!
Marriage is a bridge that has to be built anew every day, preferably from both sides.
(Ulrich Beer)
Man alone is imperfect. He needs a second to be happy.(Blaise Pascal)
Perhaps the bond that holds a marriage together is sometimes so incomprehensible to outsiders because it cannot be seen.(Jeanne Moreau)
Making the right decisions for a good marriage, at least the kinds of decisions you make day in, day out, minute in minute, require dedication. And the prerequisites for that are honesty and hard work.
(Bill Hybels)
To love a person means to consent to grow old with them.(Albert Camus)
There is a day when you walk side by side towards the future and a simple YES makes life nicer.
(Unknown)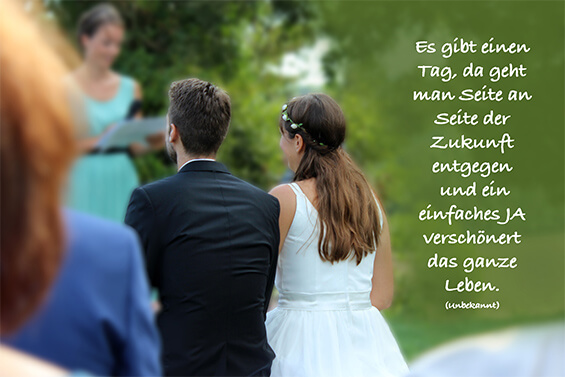 Marriage, Love and One Kiss - So that it has to rhyme:
When it's buzzing in your head and heart, what could you want better?
Whoever no longer loves and is no longer wrong, let himself be buried!
(Johann Wolfgang von Goethe)
Nothing is as beautiful as seeing the happiness in your eyes!
Forever Yours forever Mine forever us. (Ludwig van Beethoven)
What matters in life is not WHAT you have, but WHO you have by your side.
The greatest happiness on earth is marriage.(William Lyon Phelps)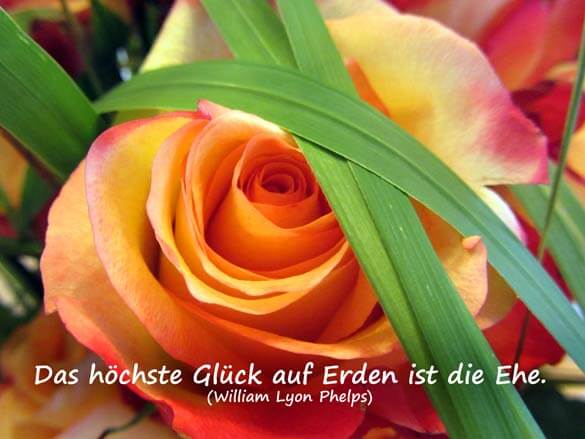 Married couples who love each other say a thousand things without speaking.(Chinese proverb)
In no marriage is there only sunshine ... But if we always share an umbrella we can survive every storm together! (Unknown)
A good marriage depends on two things: first, finding the right person, and second, being the right person.(Jackson H. Brown)
The best friend is likely to have the best wife because a good marriage is based on a talent for friendship.(Friedrich Nietzsche)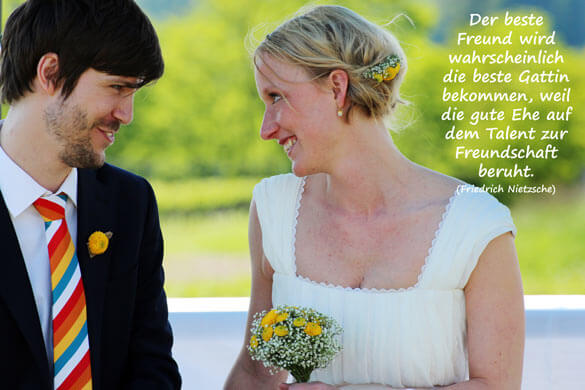 Love is like a ring and the ring has no end.
(Brazilian proverb)
In the end, nobody cares how much money we made, what house we had, or what car we drove. In the end, only the moments when we were happy and the people who are with us count.
Family is where life begins and love never ends! (unknown)
Hope that avoids risk is not hope. Hope means: believe in the adventure of love, dare to leap into the unknown and surrender yourself completely to God.(Heroes Pessõa Câmara)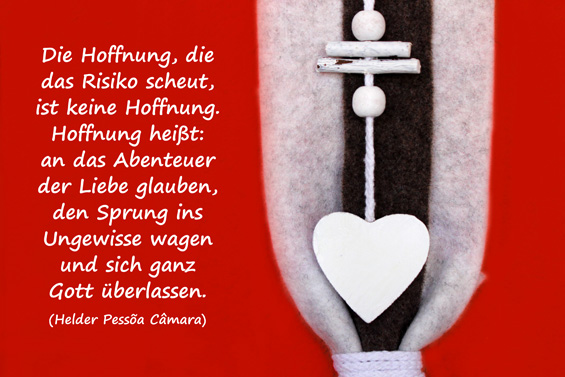 Voluntary dependence is the most beautiful state - and how would that be possible without love?(Johann Wolfgang von Goethe)
Getting married is not the happy ending, it's always just the beginning. (Frederico Fellini)
I am a real lucky guy! 'Cause I've found someone special who knows that I'm not perfect But treats me like I am (Unknown)
---
---
6. Beautiful gift ideas with love sayings
A poem can also be integrated into your wedding gift. Here are a few ideas:
Pictures declaration of love with individual text
Romantic declarations of love on canvas are a very personal and unusual gift idea.
Artists create a unique picture from templates and your personal text request and carefully illustrate the heart's message in a romantic declaration of love.
So your personal declaration of love will find exactly the right attention on such a charming picture.
---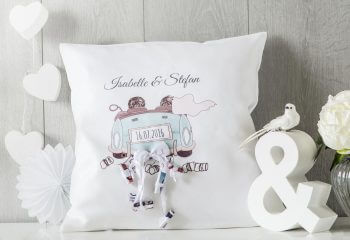 Sweet wedding pillow for the love saying
You can hand over an individual love saying (e.g. as a romantic declaration of love or as a handing over of congratulations) together with this beautiful wedding pillow as a romantic and creative money gift with love greetings.
---
---
---
7. Wedding & love sayings Whatsapp pictures
A poem or a love quote can also be sent well via social media, Whatsapp and Co. Your partner will be happy and even if a friend is lovesick, a nice saying can cheer up.
Recipe for a good marriage ... It's good when both of you have their pants on. But it's even better if neither of you has pants on.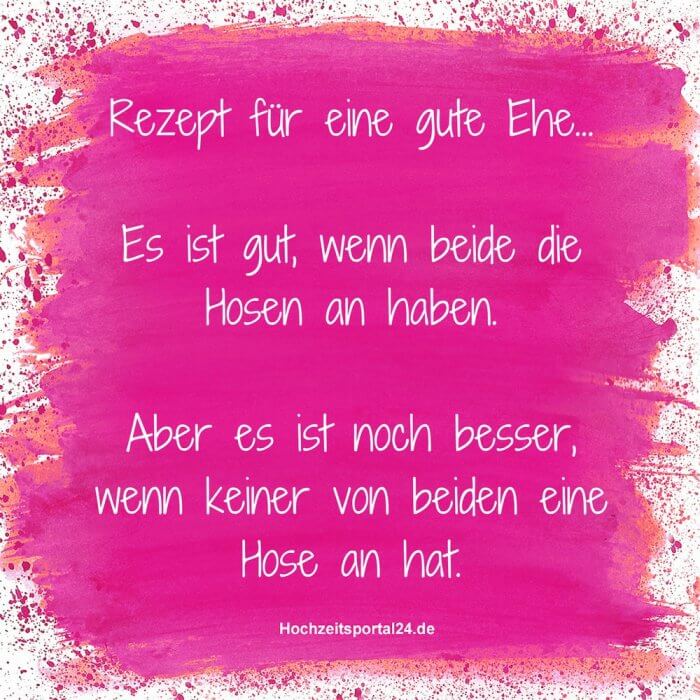 Everyone should have someone they don't have to be completely normal with.
You can't wrap the best gifts: health, love, family and good friends, just to be HAPPY!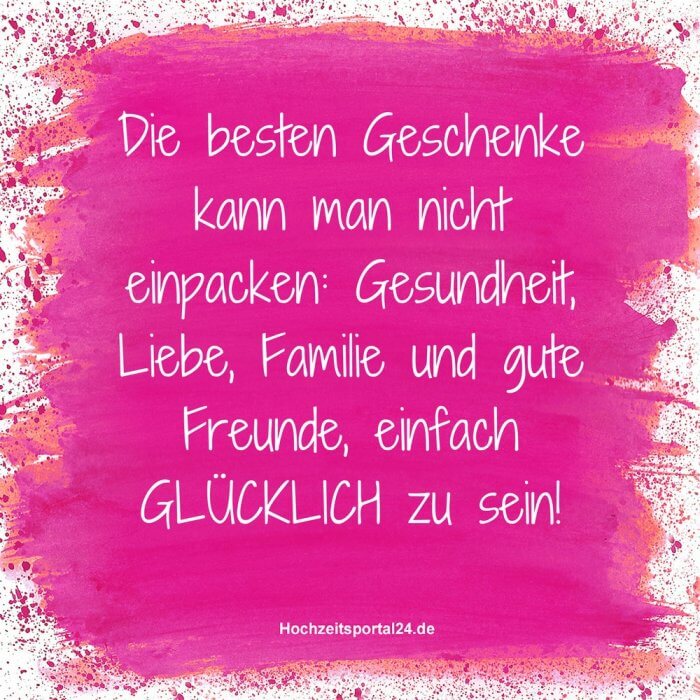 HAPPINESS is ... when you are loved for who you are. (Francois Lelord)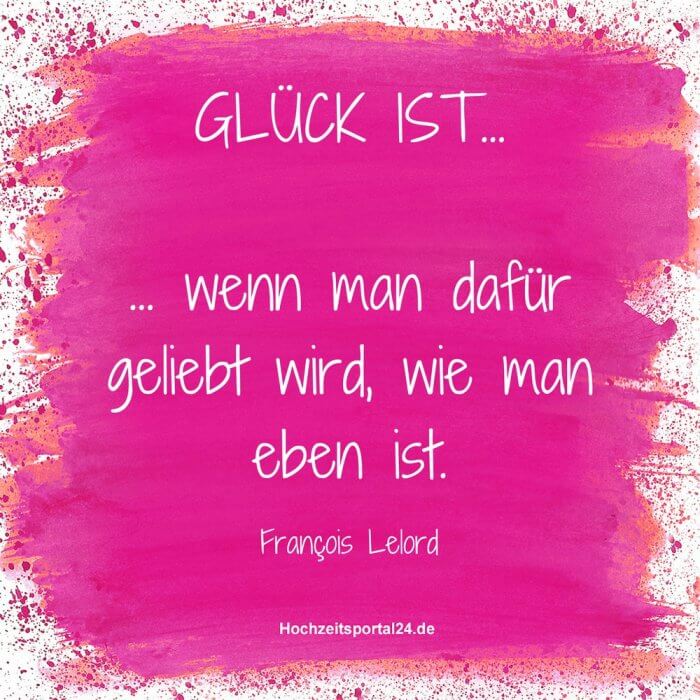 By chance you see yourself, you feel, you stay. And little by little one becomes intertwined. (J.W. von Goethe)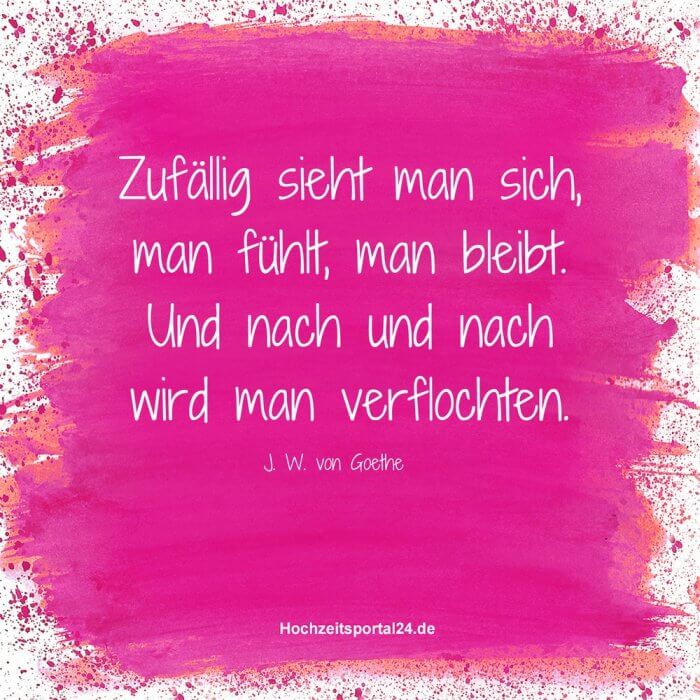 Friendships start with encounters. And you have no idea that this can become one of the most important people in life ...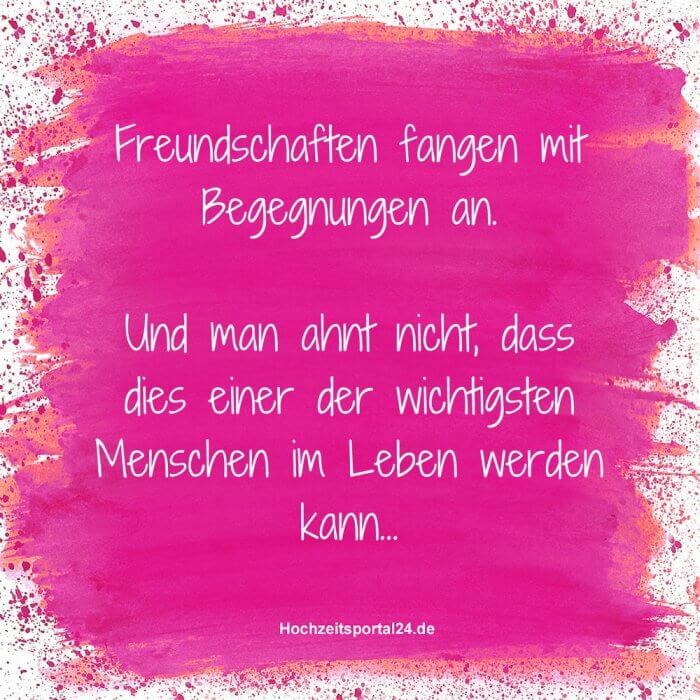 ---
---
Choose your wedding cards right away!
---
---
Other interesting articles:
Sonja Schulz
She is (originally) a trained media designer and very creatively structured. In addition to the editorial content, she prefers to take care of beautiful picture inspirations for your wedding. Together with her husband Raffael, Sonja wrote and designed the book "100 Wedding Checklists". The passionate hobby photographer loves to travel, she loves colors in her wardrobe. Sonja has been married since 2009 and has been with us since 2011.