ETrade - The day trade broker from the USA
The online broker ETrade (often also spelled e * trade) is a US companythe brokerage for private investors and day traders offers. etrade was founded in 1982 in Palo Alto, California, and is now headquartered in New York. It is also listed there on NASDAQ, the American technology exchange, and thanks to its market capitalization it is also part of the S&P 500 Component Index.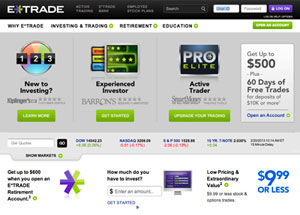 In addition to the main business, the financial service provider also offers its customers normal checking accounts and credit cards. The Main focus but is clearly in the brokerage business.
ETrade employs around 3,000 people worldwide and achieved sales of almost 2 billion dollars in 2011, with a profit of 156.7 million.
Pro Elite Active Trader Tool
The "Pro Elite" Active Trader Tool achieved one Test of the Wall Street Journal's Smart Money magazine 5 stars and was rated as excellent financial software. E-Trade is currently promoting its low transaction costs in stocks and options trading. A purchase or sale costs a maximum of $ 9.99.
As an investor, you have the option online free courses and seminars in day trading, forex and finance to participate. Especially after the stock market crash of 2008, ETrade is trying to strengthen its credibility as a renowned and reliable service provider (including a bank license).
ETF and CFD trading on up to 77 markets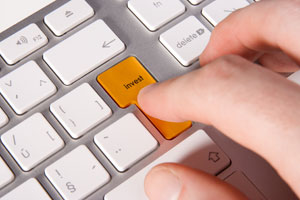 In addition to stocks and bonds, warrants and certificates, ETFs and futures can also be traded on the ETrade platforms. Trading on 77 different securities markets is possible.
Especially in Mobile trading area the provider is well represented with its apps for iPhone and Android, the app for the Google operating system can be downloaded here: https://play.google.com/store/apps/details?id=com.etrade.mobilepro.activity&hl= de
ViTrade in Germany and Austria
The broker was represented on the German-speaking market for a long time as ETrade Germany, then in 2010 a subsidiary of flatex took over the business and the existing customers became to the new ViTrade brand accepted.
In Europe, E-Trade is currently only active as a broker in Great Britain.
The well-known ETrade commercials
ETrade is known for its commercials broadcast in the United States. So became a new spot for the 2013 Super Bowl where a baby talks about investing in front of a computer in an adult's voice. It was a huge hit, and quickly spread through platforms like Youtube and Facebook.
Related Links:
Twitter account: https://twitter.com/etrade
Website: https://us.etrade.com/home