What is the product development process
The development of the Airbus A380 took around ten years. Automobile manufacturers need three to four years to bring a new model onto the market. In times of digitization, it feels like an eternity. Because the Product development of apps and online tools is progressing much faster. The first results are visible within a few weeks, and the release can often take place after three to four months. The reason for this speed is the digital product development using modern methods.
We are the classic Product development, pursued their digital change and future trends.
What is Product development?
In the Product development it is the process by which a product is developed. A product can be something real, like a car or airplane, or something digital, like software. In addition, the implementation of a service falls under product development.
The Product development process (PEP) includes three basic phases:
planning
Conception
implementation
It is part of the larger one Product life cyclewhich includes recycling - if necessary, the disposal of the product.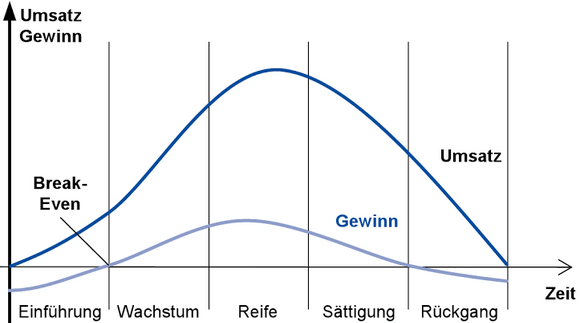 Image: Christian Ziemann Product Management - Product Life Cycle
Each Product development is based on three key factors:
Project managers and product owners need to work with these three variables to get the desired result.
Since the product life cycles are now shorter than in the past and customers are demanding new products or product variants faster and faster, the way product development has changed has changed significantly in recent years.
The classic product development, which usually takes many months and years of work, is increasingly being replaced by digital product development with significantly faster cycles. It has also become more important to deal with the integrated product development too busy.
What is digital product development?
In the digital product development the focus is on the development of digital products. These can meanwhile be established digital products such as websites, apps or online shops as well as brand new innovations with a high degree of disruption.
Why is digital product development trending?
Start-ups, digital companies or companies that are in the process of digital transformation design and implement digital products. Since the competitive pressure is often high or the budget is small, the digital Product development the results are provided as quickly as possible, for example in the form of first prototypes or a MVP (Minimum Viable Product).
So that the development teams can master these challenges, they rely on modern, agile project management methods and integrated product development in the product development process, which requires a holistic view of the product and its development.
1) Classic product development
In classic product development, there are traditional models like that Stage gate, V and waterfall models for use. In these, the named phases of product development are divided into milestones that build on one another. Each milestone has clearly defined start and end points. Further development can only take place when a milestone has been reached.
In addition, a product is considered finished and ready for market launch when all milestones have been successfully mastered. For products of the so-called "Old Economy"This approach makes sense. Only when, for example, an aircraft is fully functional and safe, can and may it be delivered.
2) Agile product development
It looks different with the digital product development out. Here the actual goal - the finished product - is usually not clearly defined. And actually there is no finished product either. Digital products are in a permanent beta status, as the companies are constantly developing and working on them with updates. Classic PEP and models no longer apply here. Instead, there are agile and integrated development methods such as Scrum for use.
These new and agile methods also change the PEP: Development, planning and production are no consecutive, completed phases more, but components that repeat themselves over and over again.
Agile development is based on the idea that the team should have a Product vision Are defined. Instead of fulfilling a project plan down to the smallest detail, as is the case with classic product development, the agile methods are about gradually approaching the product vision.
This project is carried out iteratively with regular releases in short periods of time. These are mostly made publicly available and tested or used by the targeted target group. Through the Analysis of customer behavior and user testing you can quickly find out whether the product or its vision will be accepted and which features the company should develop further.
Advantages and disadvantages of the various product development processes
In the classic product development the results are quite easy to plan. For example, if a company commissions an agency to develop an online shop, it is clear what the finished product should look like based on the waterfall model.
In which agile product development process the journey is more the goal. During the "journey" the goals are constantly adjusted. In this way, companies can react quickly to changing requirements of the market and consumers. With the advancing digitization, in which technologies and trends change or develop rapidly, this is very important in product development.
Is classic product development being phased out?
The agile Product development has increased in importance in recent years. The advantages are apparent. Nevertheless, classic methods have not had their day. On the one hand, not every product can be developed in an agile manner. On the other hand, not all organizations such as project teams and companies are suitable for modern methods because, for example, the necessary mindset and the appropriate structures are missing. So there is no ultimate solution for how a product can be developed.
Header image: SeventyFour / iStock / Getty Images Plus
Originally published March 5, 2020, updated 05 March 2020
Recommend this article: