How can naturopathy treat diabetes
Type 2 diabetes is curable
Even if it is emphasized again and again that type 2 diabetes is a chronic incurable disease, many scientists and doctors already disagree. In our article Type 2 diabetes is curable, we reported on relevant studies. It showed, among other things, that in many cases it is enough to reach normal weight to get rid of your diabetes. You will also find a summary of other measures that all contribute to curing diabetes in the article mentioned.
donation
Your donation helps us
If you enjoyed this article, we would appreciate a small contribution to our work! Donate now with Paypal.
display
Distance training to become a holistic nutritionist
Are you interested in what's in our food and want to know how nutrients and vital substances affect the body? Do you want a healthy life for yourself, your family and fellow human beings? Nutritionists are popular - but the holistic aspect that is needed for sustainable health is often forgotten when giving advice. At the Academy of Naturopathy, you will get to know the connections between lifestyle and diet as well as physical and psychological well-being.
That educates interested people like you in around 16 months to become a holistic nutritionist out.
Is this article worth reading?
Share this article
swell
CURADO "Magnesium deficiency can favor secondary diseases in diabetics"
Diabetes Journal "Stevia - Cuties With No Regrets?"
Wien M et al., "Almond consumption and cardiovascular risk factors in adults with prediabetes." J Am Coll Nutr. 2010 Jun; 29 (3): 189-97.
(Almond consumption and cardiovascular risk factors in adults with prediabetes)
Anderson RA, et al., "Potential antioxidant effects of zinc and chromium supplementation in people with type 2 diabetes mellitus." Journal of the American College of Nutrition 2001, 20 (3), 212-218 (Potential Antioxidant Effects of Zinc and Chromium Supplementation in Patients with Type 2 Diabetes Mellitus.)
Hans-Konrad Biesalski, Peter Grimm "Pocket Atlas Nutrition" Thieme Georg Verlag, 2007
Gomes AC, Bueno AA et al., "Gut microbiota, probiotics and diabetes", Nutrition Journal, June 2014, (Gut flora, probiotics and diabetes)
Prospective associations and population impact of sweet beverage intake and type 2 diabetes, and effects of substitutions with alternative beverages
Increasing walking steps daily can reduce blood pressure and diabetes in overweight participants
Lower serum magnesium concentration is associated with diabetes, insulin resistance, and obesity in South Asian and white Canadian women but not men
Notice on health issues
This information is passed to the best of my knowledge and belief. They are intended exclusively for those interested and for further training and are in no way to be understood as diagnostic or therapeutic instructions. We do not assume any liability for damages of any kind, which arise directly or indirectly from the use of the information. If you suspect illness, please consult your doctor or alternative practitioner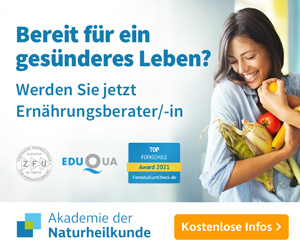 Subscribe to Newsletter
Exciting information about health and nutrition
1x per month
Login Successful. You will shortly receive a confirmation at the specified email address.
With your registration you allow the regular sending of the newsletter and accept the data protection regulations.
HEALTH CENTER © 2021 Neosmart Consulting AG. All rights reserved.