Which branch has more curriculum in the gate
Bilingual branch
On the basis of its general educational goals, but also specifically in connection with its European and language profile, the European School Ostendorf-Gymnasium introduced a bilingual element in 1999, which can now be taken up to the Abitur.
The Ministry of Education formulates the goals of bilingual teaching as follows:
As an extended foreign language course, he strives for increased language competence.
As a technical lesson in the foreign language, it enables schoolchildren to understand, process and present technical issues in learning areas such as economics, culture and politics in the foreign language.
Thanks to increased language skills and increased knowledge of foreign cultures, the young people are able to participate in life in the partner countries.
Bilingual teaching promotes getting to know and understand each other and the students acquire intercultural competence, i.e. they can:
take the perspective of the partner country,
Anticipate problems of understanding in this perspective,
present their own country for partners of the other culture and language.
Bilingual teaching and bilingual learning prepare students for studying and working, because they impart knowledge, skills and abilities that are important for later professional life in a linguistically and culturally diverse Europe. In schools with bilingual teaching, international school partnerships with student exchange programs are included in the offer as part of the school program.
http://www.schulministerium.nrw.de/…
The profile description of the bilingual teaching at the Europaschule Ostendorf-Gymnasium
With today's focus on languages, our school is entirely in keeping with its historical tradition. The Ostendorf school reform in Lippstadt from 1851 is based on the inclusion of modern foreign languages ​​in the curriculum. "... I myself tend more and more resolutely from year to year to the view that before three generations have passed, the boys of our people will no longer sharpen their sense of language first on the Latin, but on a newer language ..." (Ostendorf, 1865)
The term "bilingual" describes our school offer, in which the subjects geography from grade 7 and history from grade 8 are mainly taught in English and with English-language materials. Before that, classes 5 and 6 will be given two additional hours of lessons in English to prepare the students in their language skills and their ability to express themselves for the increasing linguistic requirements.
The content and curriculum of bilingual subject teaching correspond to those of mother tongue subject teaching. Information on this can be found under the menu item Lessons / Curricula and further under Geography or History. A look at the bilingual timetable is also very informative:

Lesson table SI G8 - bilingual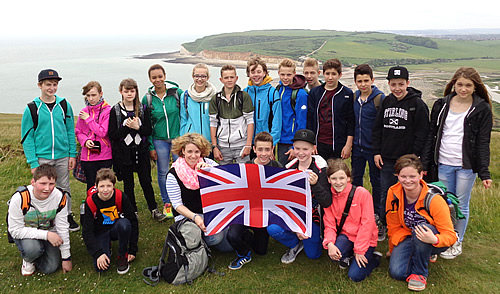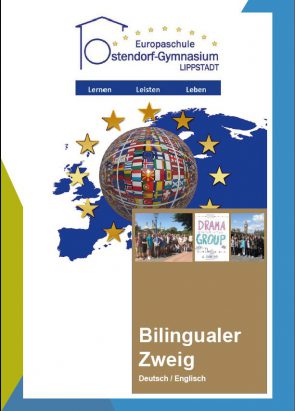 Info flyer "Bilingual Branch"