Why doesn't Google recognize my website
The new website is optimized, provided with good content and finally published - but nothing happens on Google. If you search for the corresponding keywords, your own website either does not appear at all or only appears in the nirvana of the lowest search results pages.
Most marketers have probably already had this frustrating experience themselves. In this post we explain why this can be how much time you plan for a good ranking must and how you do the Speed ​​up the process can.
Step # 1: The indexing
In general, the term "index" describes an ordered register in which data can be easily found. It works in a similar way with Google: If a search query is started, all indexed websites are searched for matches with the respective keywords. In order to even appear in the search results on Google, the website in question must be listed, indexed, in the index.
The indexing is usually done automatically. In the case of websites that are still in edit mode, however, it is often deliberately suppressed because the page should not be able to be found before the planned publication.
It is therefore important to allow indexing again when it is published. If a website is not found by Google at all, a previously self-imposed indexing ban is a first clue for a possible cause.
But even apart from such careless mistakes, there can be problems with automatic indexing: This generally works via bots, the so-called "spiders" or "crawlers", which constantly jump from one website to the next via links and thus index as newly identified websites.
However, the speed of this crawling depends on various, not entirely transparent factors, so that the process can take between a few seconds and more than a month. But who wants to wait over a month until the new website can be found on Google?
How can the time to indexing be shortened?
In fact, there are several ways you can speed up indexing:
1. Submit an application for indexing
Google provides ways you can request indexing. The only requirement is a free Google account. However, in this way it is neither guaranteed how long an indexing will take nor that it will be carried out at all.
2. Website with Google Search Console enter
At Search Console it is a tool from Google that can be used to monitor the performance of your own website. A sitemap can be entered via the menu item "Crawling", which will then be crawled in the following 24 hours. You can see the status of this process in the tool and check that the crawling was successful. However, this service is limited to ten URLs per month.
3. Use Google's test for optimization for mobile devices
This Google tool is actually designed for checking the mobile usability of websites, but it also makes it possible to send your own website to Google. To do this, the relevant page does not even have to be mobile-optimized. In addition, you do not need your own Google account for this option.
4. Meet general SEO criteria
Finally, there are various aspects of your SEO strategy that can increase the frequency with which the bots "crawl" your website. These include, for example, a high number of high-quality backlinks and short update intervals for the website, as well as high website speed and a good PageRank value (a page rating based on the number and quality of incoming links).
It is easy to check whether the indexing was ultimately successful. Enter "info:" into the Google search in combination with the relevant URL - if the page is indexed, it should now be displayed.
Step no. 2: The ranking
As important as indexing is as a basis for your own visibility - it doesn't do much if your own website ends up on the last pages of Google results, where no one will ever find it. Rather, good positions in the organic search results are in demand.
There are many myths surrounding the question how exactly this positioning comes about. It was often said that newly indexed websites would rank particularly well because Google would test them in this way (the so-called newbie bonus).
On the other hand, some argued that Google initially mistrusted new sites and relied on user trust in tried and tested content. Newer websites are therefore initially placed in the digital "sandbox" until they have proven themselves (also known as the sandbox principle). After constant changes to the Google algorithm, there seems to be more confusion than ever about how it works.
How long does it take for a website to rank well?
For this reason, the US company Ahref investigated in 2017 how much time it takes on average for a website to achieve a good ranking on Google. For this purpose, it was analyzed how old the top rankings were for two million randomly selected keywords. Result: The average top 10 search result is more than two years old, only 22 percent of the results in the top 10 are less than a year old.
As expected, the ranking process for keywords with a high search volume turns out to be particularly difficult and lengthy. Overall, only 5.7 percent of the websites examined actually made it into the top ten search results for at least one keyword within one year. The quickest way to do this was with keywords with a lower search volume.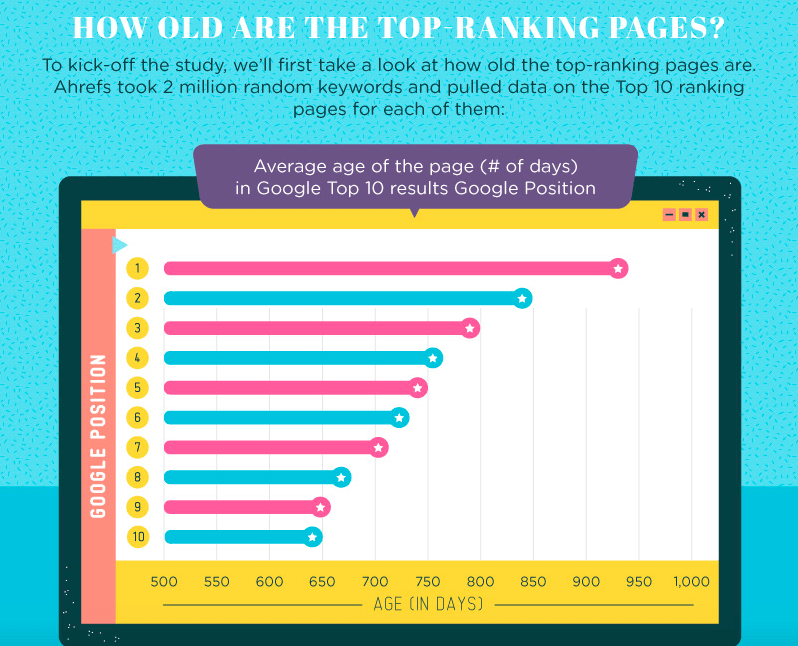 Image: Excerpt from the Ahrefs infographic
How can the ranking be improved?
So what did these 5.7 percent do better than the majority of the websites examined? In addition to a portion of luck, a high level of domain authority (mainly based on the number and quality of incoming links) and a sophisticated SEO strategy were decisive.
The SEO considerations in particular should aim to ensure that the website has the highest possible "trustworthiness". Trust), which can be recognized by Google.
In the past, this was mainly achieved through the sheer number of links that led to a website, whereas today the link quality is decisive in link building. But many other factors are also taken into account by Google, including:
the quality of outgoing links
the continuity the left
Certain badge other seal (such as from Trusted Shops)
Information about the author for corresponding (blog) articles and posts
continuously good content
continuous Traffic volume
frequent Explicit search of the domain self
if possible little redundant Content
little and rare Page fault
Much of this can be influenced relatively easily and quickly with a well-thought-out SEO strategy. What is striking, however, is the emphasis on continuity - a criterion that, by definition, can only be met over a long period of time.
Establish a solid SEO strategy and be patient
Basically, a good ranking definitely takes time, but a coordinated SEO strategy can shorten the duration or make a top ranking more likely. Nevertheless, being up-to-date is extremely important, especially online.
Accordingly, Google is increasingly put under pressure to evaluate positive signals from user behavior as quickly as possible. Changes that affect loading times, titles, meta descriptions or redirects, for example, now have an effect on the ranking after weeks, not months.
In terms of user-friendliness and its optimization, however, more time must be allowed for. Changes in the design, the page structure or the logo only have a very slow effect, as Google includes a broad database at this point over a long period of time - you follow sins from the past accordingly longer here.
Various SEO tools that determine a visibility index can also serve as little helpers on the way to the desired ranking. It usually sets the ranking in relation to the search volume and takes the click rates into account.
For example, a ranking for a keyword with a high search volume is given more value than the same ranking for a keyword with a low search volume. If you keep an eye on factors of this kind, you can work on the best possible Google ranking more easily, faster and more effectively on the basis of the corresponding feedback.
Originally published August 17, 2018, updated 30 October 2020
Recommend this article: