What's a reason to hate doctors
On my own behalf"You can ask anything on the Internet that you don't ask the doctor"
What exactly are patients looking for at Dr. Google? And why and when do people look for health information online? Do you know if you are reading serious news or if you have "fake news" in front of you? Do they really not trust their doctors - or do they not trust them enough?
The Bertelsmann Stiftung has investigated how patients find out about health complaints and illnesses online. Psychologists from the Rheingold Institute conducted 36 in-depth interviews on behalf of the foundation and received statements such as
"Doctors hate the enlightened patient. You should never show directly what you have read. But then I try to ask in such a way that it goes in that direction. "
The qualitative study was supplemented by a representative Emnid survey. In a standardized telephone survey of 1,074 German Internet users between the ages of 18 and 80, the opinion research institute examined the importance of the Internet as a guide to health issues. According to Emnid, the sample weighted by age, gender, level of education, household size, region and employment status is representative of the German population.
The most important results at a glance
People often have social and communicative reasons when they go online with health-related questions: They are not looking for more information, but for consolation, encouragement or reassurance. Health self-help or checking and supplementing medical information also play an important role.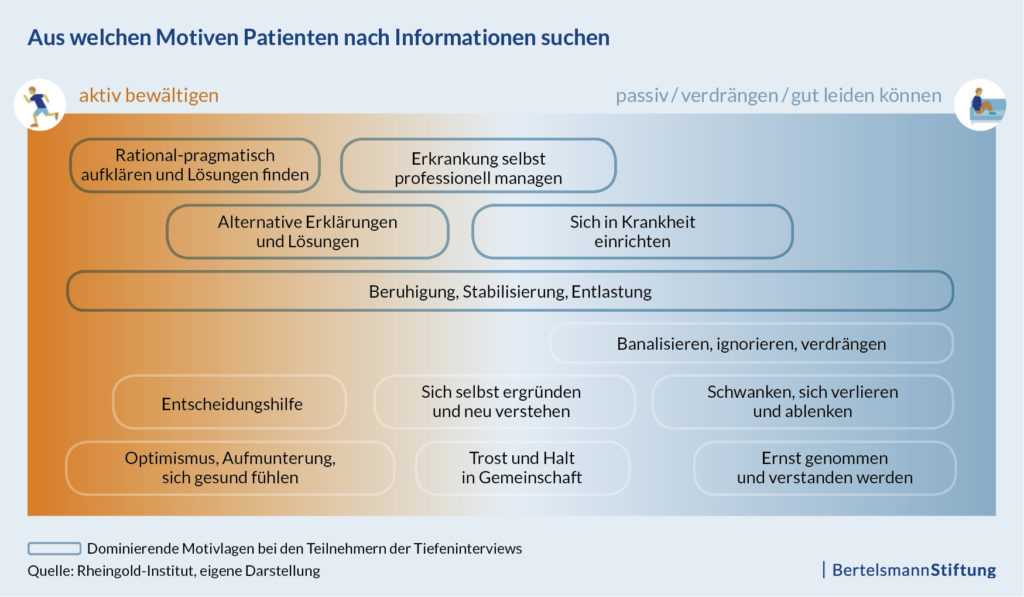 Specialized websites (at least when a person is online for the first time) are of less importance than extensive sources such as online encyclopedias, health portals or websites of health insurance companies. Publicly funded websites are often not considered to be more trustworthy than commercial ones.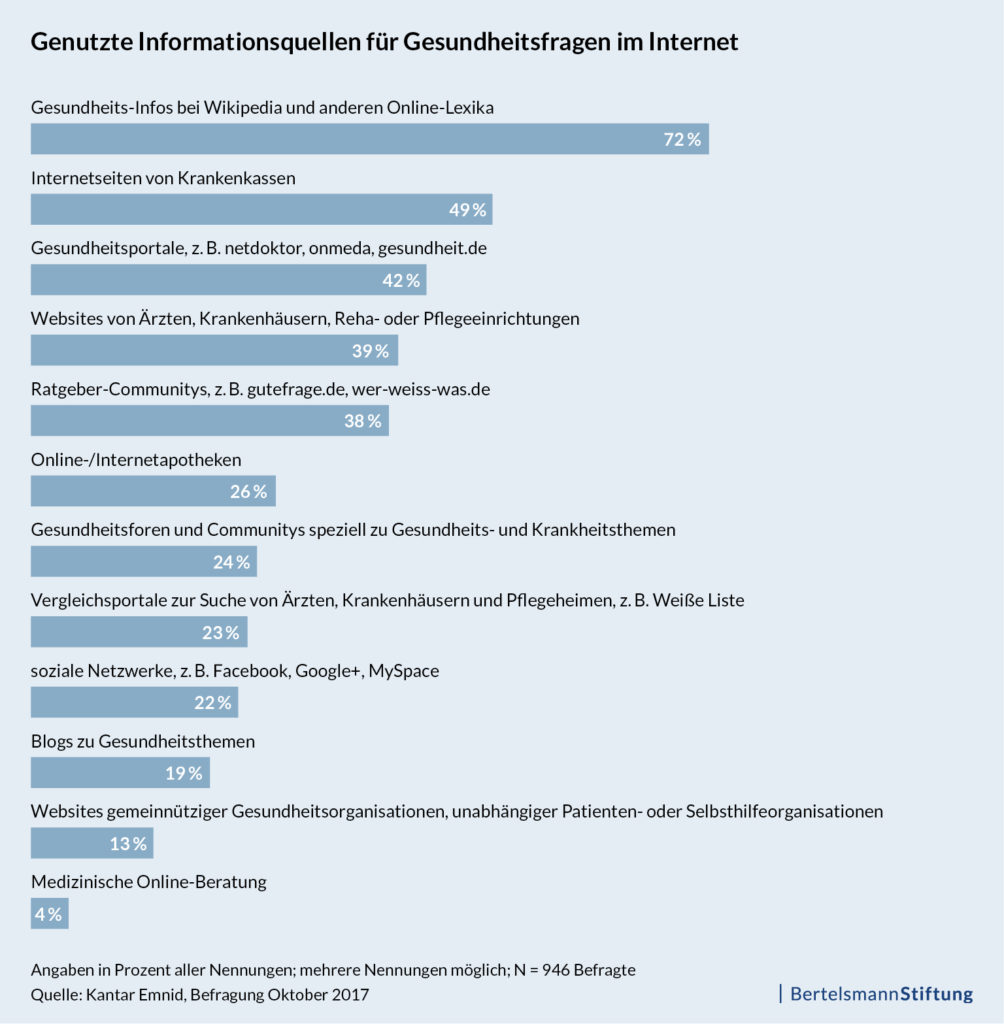 Only astonishing at first: 52 percent of the patients who use the Internet for health questions are satisfied with the results of their search. 49 percent consider the web research a good addition to the statements of their own doctor. Nevertheless, 65 percent say that trustworthy information is difficult to find on the Internet. One in two people is of the opinion that the wealth of information and the growing supply of health information unsettled, worried and confused patients.
Repeatedly reading or listening to information on different websites is often seen as confirmation of its correctness: what is known is rated as trustworthy. Finding information twice is enough to significantly increase its credibility, according to the study. During the online search, none of the subjects in the in-depth interviews thought about whether the information found was scientifically sound.
"I always take the first three hits because I think these are the best."
Distorted perception: The in-depth interviews show that patients trust the search results on Google and rankings almost unconditionally. If Google does not deliver the expected results, patients excuse this with their own wrong search strategy. The Bertelsmann Foundation writes a dangerous fallacy that testifies to a lack of media literacy. The fact that the test subjects question the source of information only in exceptional cases, even according to the in-depth interviews, reinforces the assumption that the web is often blindly trusted.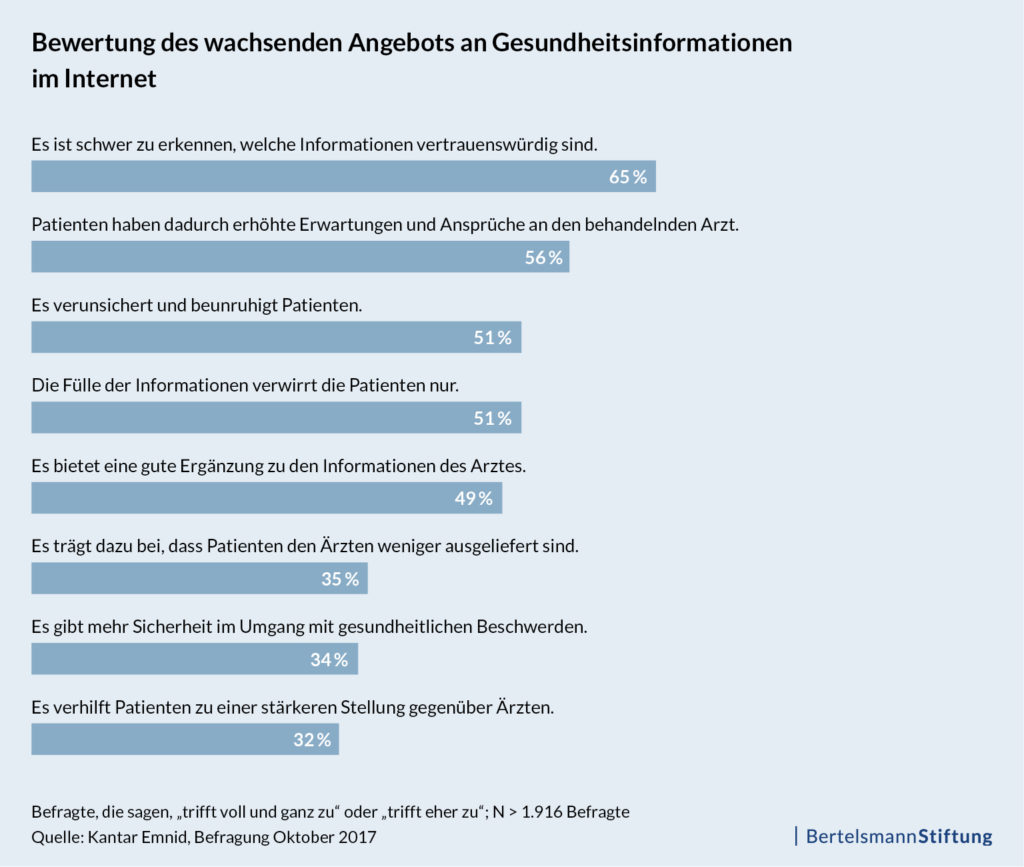 There is a large discrepancy between how well known health websites are and how trustworthy they are. While some offers are known to two out of three or more users, the rate of offers classified as trustworthy is significantly lower and under 50 percent for nine of the eleven specified portals. It is noteworthy that this also includes websites that come from completely reliable institutions. In addition, offers that consumer protection agencies rate as very problematic are rated as similarly trustworthy. For many, the information offered on the World Wide Web is intransparent and confusing.
Patient and doctor: a new relationship
If patients feel insufficiently informed by their doctor or even feel emotionally abandoned, then they often try to ask the open questions on the Internet and thus compensate for the need for discussion. Especially after diagnosing a serious illness, people turn to the Internet. Employees of the Bertelsmann study write that they are looking for support and help to process the findings: "Forums and networks with like-minded people offer consolation and strength. The network outweighs the deficits of the real doctors who (can) take too little time or who do not have sufficient communicative skills. "

After the doctor's visit, slightly more users access the Internet than before the visit. Reasons here: The doctor did not have enough time (22%), did not express himself in a patient-friendly and understandable way (34%).
According to the Bertelsmann Foundation, 30 percent of those questioned do not tell their doctor that they have already looked up information on the Internet, which certainly points to a disturbed relationship of trust between some doctors and patients.

Only a minority of those questioned stated that doctors were more likely to be annoyed when they brought up their Internet information as a patient in the conversation. Conversely, only one in four then stated that the doctor had shown a positive reaction to the patient's Internet initiative.
Doctors are reluctant to take a look at health information on the Internet: although very few doctors explicitly advise against searching for information on their own on the Internet, there are also not many doctors who would definitely advise. On the other hand, the fact that almost half of the doctors point to good sources of information or even give the patient materials with them should be noted positively - even if there is still room for improvement, writes the Bertelsmann Foundation: Doctors who are skeptical about the seriousness of those published on the Internet Information about diagnoses and therapies should not hesitate (as every second person is currently doing) to give the patient trustworthy materials or at least to refer them to reputable sites.
Conclusion: The Bertelsmann Foundation experts determine an ambivalent assessment of the Internet information on health issues: Although users are satisfied that this additional option of information is generally available to them, they criticize the specific design: The wealth of information confuses some users, and Moreover, it is not very transparent how trustworthy the information is.
On my own behalf
Change in the MedWatch team
We are nominated for the Grimme Online Award!
On our own behalf MedWatch as a magazine online - secure its existence
We come to you MedWatch regulars' table in Munich
On our own behalf How consumers can be protected from dangerous health information
"Natural" or "Reliable" How mail-order pharmacies advertise homeopathy in a questionable way