What caused Hurricane Ophelia
Ex-hurricane "Ophelia" is raging in Ireland
Three people were killed in accidents in connection with the ex-hurricane "Ophelia". A woman died when her car was hit by a falling tree in the southeast of the country. A man was also killed in a similar accident in the east of the country. Another man was killed in a chainsaw accident in the south of the country. He had tried to clear a fallen tree, the police said.
The storm reached the Irish coast this Monday with winds of up to 150 kilometers per hour. According to energy company ESB Networks, around 120,000 people were cut off from the power supply by midday. Ireland's Prime Minister Leo Varadkar chaired a meeting of the national crisis team. "Stay inside until the storm has passed," said Varadkar at a press conference in Dublin. "It's a very dangerous storm. The last time there was such a violent storm, eleven people lost their lives."
Cyclones over the Atlantic are increasing
"Ophelia" is the tenth hurricane to brew over the Atlantic this season. The hurricane peaked southwest of the Azores in the middle of last week and has been moving northeast since then. With the entry into cooler regions, "Ophelia" has lost some of its power and is no longer a hurricane. But the talk is of the violent storm in Ireland in 50 years.
Schools and authorities remained closed, ferry connections were temporarily suspended, and court hearings were postponed. Patients were asked to reschedule doctor's appointments. Parts of the Irish army were put into readiness. Dublin Airport announced that around 130 flights had been canceled. Schools did not open in British Northern Ireland either.
London fascinates with "Ophelias" sky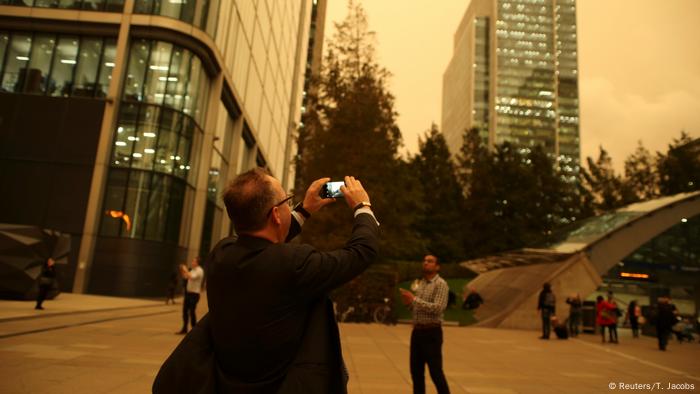 "Ophelia" bathed London in an eerie yellow
In London, the visual effects of "Ophelia" caused a sensation: the sky over the British capital turned unusually yellow. "This is not the apocalypse," assured the London Science Museum promptly in the short message service Twitter. The British Meteorological Office said the sky was caused by sand from the Sahara that the storm brought on its long journey.
The weather service warned of flying debris. Power outages and floods near the coast are also to be expected. Strong winds were also forecast for the north and west of Great Britain. Ophelia "brings back memories of the" Great Storm "that swept over Great Britain on October 16, 1987. 18 people died in the storm.
myk / jj (dpa, afp, rtre, ap)