What bacteria cause typhoid
typhus
Every year around 22 million people worldwide develop typhoid fever, which particularly affects people in developing countries with poor hygienic conditions. The highest number of cases occurs in Africa, South America and Southeast Asia and there are repeated typhoid outbreaks and epidemics >> Your travel destination perforation of the intestine.
Pathogenic
Typhoid bacteria (Salmonella typhi) only develop in humans. Paratyphoid and abdominal typhoid, which are caused by other Salmonella species and can affect both animals and humans, are similar.
Occurrence
Typhoid occurs all over the world. The disease is most common in poor hygienic conditions in food processing and treatment, and where there is no adequate wastewater treatment. Developing countries with poor hygienic conditions are therefore mostly affected.
Particularly high numbers of illnesses as well as repeated outbreaks and epidemics are known from Africa, South America and Southeast Asia
>> Your travel destination

Route of infection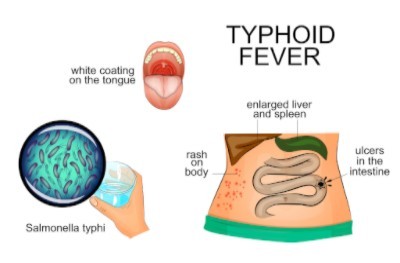 The infection is spread through consumption of contaminated food or water. Occasionally there is also direct fecal-oral transmission. Shellfish from sewage-contaminated areas are an important source of infection. Eating raw fruits and vegetables that have been fertilized with faeces can lead to infection, as can milk and dairy products that have been contaminated through contact with the aforementioned vegetable products. Flies can also transfer the pathogen to food, which is sufficient to infect a person.
Pollution of water sources can lead to typhoid epidemics when large numbers of people share the same source of drinking water.
Incubation
2-21 days, usually 10-14 days
course
It is a systemic disease of varying degrees of severity:
Severe courses are characterized by a gradual increase in fever, headache, malaise, loss of appetite and insomnia. Constipation is more common than diarrhea in adults and older children. If left untreated, the disease results in persistent fever, bradycardia, hepatosplenomegaly, abdominal symptoms and, in some cases, pneumonia.
In fair-skinned people, in 50 percent of cases, pale red spots (papules) appear on the skin of the trunk, which disappear when pressure is applied.
In the third week, untreated cases also develop gastrointestinal and other complications that can lead to death. Two to five percent of typhoid patients become chronic carriers of the disease, as the bacteria persist in the bile ducts even after the symptoms have disappeared.
Passive protection
Caution is advised with food in risk areas: Cook it, peel it or forget it! - especially with raw seafood.
You should avoid fresh fruit and vegetables, peel them or boil them well. Unboiled drinking water and ice cubes should also be avoided.
vaccine
Oral Ty21a vaccine: This live attenuated vaccine of the Salmonella typhi Ty21a mutant is available in liquid or as an enteric capsule and is administered orally.
Injectable Vi-Polysaccharide Inoculation: The Vi-Polysaccharide Inoculation is given intramuscularly (IM) in a single dose.
application
Oral Ty21a vaccination: The live vaccine is given orally in three doses (four in the US), two days apart.
Injectable Vi polysaccharide vaccine: The Vi polysaccharide vaccine is given in a single dose.
Vaccination protection
Both vaccines: vaccination protection 60-80%, start 7-14 days after vaccination, duration of protection: oral vaccination 1 year; Dead vaccine 3 years
Side effects
One week before to one week after vaccination with the Ty21a strain, anti-malarials such as proguanil, mefloquine and antibiotics should not be taken.
A comparison of the side effects of the typhoid vaccines shows that more systemic reactions (for example fever) occur with the inactivated whole-germ vaccine to be administered intramuscularly (IM) than after the administration of Ty21a or Vi polysaccharide vaccine. No serious side effects were seen with either of these vaccines. With both vaccines there are seldom general reactions, with the live vaccine occasional indigestion or, very rarely, allergic reactions.
Due to insufficient information on their effectiveness in children under two years of age, these vaccines are not recommended for children.
Remarks
No antibiotics or antimalarials for 3 days before and 3 days after the oral vaccination, as the vaccine effect is canceled. Distance to other vaccinations is not necessary