Should I be sad when I eat animals?
However, it is even better to think about a vegetarian diet.
Advantages of a plant-based diet
People who have changed their diet accordingly also show changes in their emotions. A plant-based diet helps to become more balanced, more confident and more peaceful. In addition, an expansion of consciousness takes place automatically.
This is because information is also stored in plants. Provided that the plants have not been sprayed or genetically modified, this information is exclusively positive information from nature. Both the sunlight to which the plant is exposed and the water and nutrients that the plant absorbs from the soil are absorbed by our body. In this way, every tissue in our body is supplied with this positive energy.
Future of humanity
As cruelly as we treat animals today, we also treat ourselves, our fellow human beings and our environment in the end. This topic is not all about animals. Rather, it is also about ethics, about compassion and about the fact that we should finally recognize that all living systems are inextricably linked.
Through our eating behavior, we therefore not "only" torment the souls of our animals - our souls are inevitably also involved.
Of course we can supply the whole world with steaks and hamburgers - at least for a certain period of time. We can cut down the entire rainforest and turn it into pastureland. It will be fine for a few generations. But then it's over, because the entire environment will be irreparably destroyed.
So now is really the time that we come to a holistic view. If we want to have a future, we have to think about a sustainable way. This includes, among other things, restricting the consumption of meat. But this also includes saving energy.
This includes that we stop supporting companies that are destroying our planet and thus our future. This includes taking care of our health, etc. We have an obligation to make the changes necessary to keep our world living in peace.
donation
Your donation helps us
If you enjoyed this article, we would appreciate a small contribution to our work! Donate now with Paypal.
display
Distance training to become a holistic nutritionist
Are you interested in what's in our food and want to know how nutrients and vital substances affect the body? Do you want a healthy life for yourself, your family and fellow human beings? Nutritionists are popular - but the holistic aspect that is needed for sustainable health is often forgotten when giving advice. At the Academy of Naturopathy, you will get to know the connections between lifestyle and diet as well as physical and psychological well-being.
That educates interested people like you in around 16 months to become a holistic nutritionist out.
Is this article worth reading?
Share this article
swell
Foury A et al., "Stress hormones, carcass composition and meat quality in Large White × Duroc pigs." Meat Sci. 2005 Apr; 69 (4): 703-7. (Stress hormones, carcass composition and meat quality in large white Duroc pigs.)
Dr. med. Werner Hartinger "The Stress Hormones"
Darwish WS et al., "Antibiotic residues in food: the African scenario." Jpn J Vet Res. 2013 Feb; 61 Suppl: S13-22. (Antibiotic Residues in Food: The African Scenario.)
Er B et al., "Screening of quinolone antibiotic residues in chicken meat and beef sold in the markets of Ankara, Turkey." Poult Sci. 2013 Aug; 92 (8): 2212-5. (Screening of quinolone antibiotic residues in chicken and beef in Ankara markets, Turkey.)
Lindquist D et al., "Tetracycline residues in porcine stomach after administration via drinking water on a swine farm." J Food Prot. 2014 Jan; 77 (1): 122-6. (Tetracycline residues in pig stomachs after administration via drinking water on a pig farm.)
Notice on health issues
This information is passed to the best of my knowledge and belief. They are intended exclusively for those interested and for further training and are in no way to be understood as diagnostic or therapeutic instructions. We do not assume any liability for damages of any kind, which arise directly or indirectly from the use of the information. If you suspect illness, please consult your doctor or alternative practitioner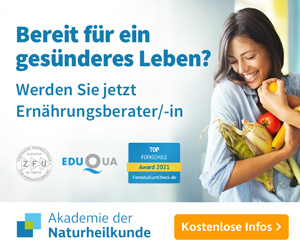 Subscribe to newsletter
Exciting information about health and nutrition
1x per month
Login Successful. You will shortly receive a confirmation at the specified email address.
With your registration you allow the regular sending of the newsletter and accept the data protection regulations.
HEALTH CENTER © 2021 Neosmart Consulting AG. All rights reserved.