Who is the best guitarist on nowadys
Ron Wood
Ron Wood & The Rolling Stones
In fact, it can hardly be explained to an outsider why the biggest rock band of today, the Rolling Stones, got into financial difficulties so often in the early stages of their career, despite undisputed sales of millions at the time ...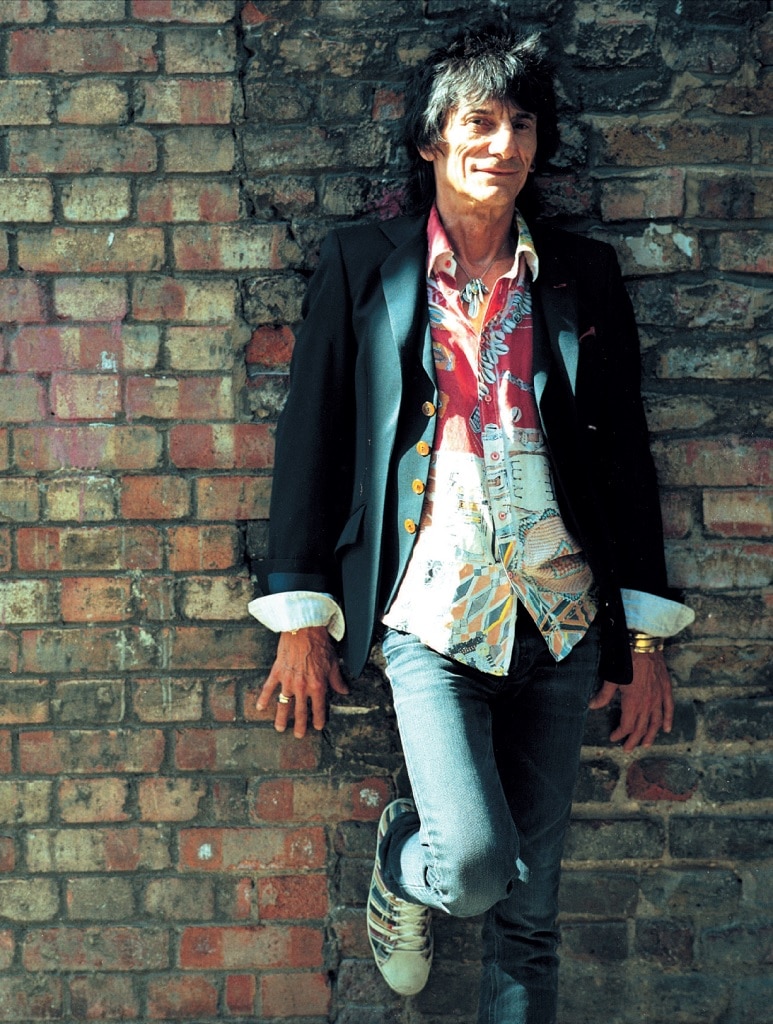 ... But there was their dissolute lifestyle with wild orgies and loads of drugs, the English tax authorities, plus windy managers and dubious asset managers. And more than once in the seventies, Jagger / Richards & Co. faced personal bankruptcy.
In this respect, guitarist Ron Wood, who knows the ups and downs of life, fits perfectly with this chaotic family: He joined the band in 1975 and became a constant after the original member Brian Jones, who died in 1969, and his successor Mick Taylor, who left in 1974 the band's second guitar post.
Ronnie Wood, who was born in 1947 in Hillingdon, Middlesex, England to a Roma family and grew up in modest circumstances, apparently never really got rich, but had to take on enough part-time jobs to maintain his - not even excessively luxurious - way of life to be able to afford.
Can that explain the existence of (meanwhile) eight solo albums? Probably only partially, because Wood primarily uses his own works as a further vehicle for his diverse creativity. The latest work is called, I Feel Like Playing ', was released in 2010 and turned out to be a great record at the interface between rock and soul, between blues and reggae.
Ron Woods album, I Feel Like Playing 'sees the Stones guitarist among good friends. And there are many of them, because the Briton is a very personable and generous contemporary. He is seen as a team player without excessive claim to leadership, who always adapts to the circumstances and, at least with the stones, does exactly what his colleagues expect of him.
The two stones guitarists jamming:
That is why Messrs Mick Jagger, Keith Richards and Charlie Watts always stuck to him despite Wood's decades of alcohol and drug addiction. However: In the last few years the patience of the Stones-makers seems to have been put to the test with their hard-drinking band colleagues, so that Jagger more than once publicly urged abstinence and last spring even threatened to be kicked out.
A clear indication that Wood seems to have understood, because since the spring of 2010 he has been dry after his sixth or seventh rehab. A positive development, which, however, brings with it a few small pitfalls for journalists: If you used to meet Ron Wood in interviews mostly in a beer / whiskey-happy mood and could therefore be happy about some surprising / thoughtless comments, the sober Ronnie is noticeable monosyllabic.
In the past he did not make a murderous hole out of his heart, but today he tries to use a moderate choice of words and tries to avoid any irritation.
In 2017, Rolling Stones guitarist Ron Wood was diagnosed with lung cancer. But now he's healed. Just in time for the "No Filter" European tour, he was able to be on stage again with the Stones - like here in Hamburg:
Back to overview
Drugs & Alcohol
According to normal human judgment, Ron Wood should actually no longer be alive. Some of his companions - including famous personalities - have paid dearly for their excessive life full of drugs and alcohol: his former roommate Jimi Hendrix is ​​dead, his former wife Krissy Findlay, Keith Moon from The Who and Wood's long-time drinking buddies , the comedian Peter Cook, are it as well.
Eyewitnesses reported that the Stones guitarist consumed up to eight half liters of Guinness beer on an average day for years, plus (!) One or two bottles of vodka and a bottle of Sambuca.
He has been on rehab at least six times and had to have his nasal septum replaced with a plastic component - long before cocaine became a widely used musician drug.
Ron, the first question: how are you health? Some time ago we heard that you had completely changed your life.
Ron Wood: Thank you, I'm very well. You could almost say: As good as never before in my life. I'm full of energy and don't even know where to start first.
Maybe some details about your solo album !?
Ron Wood: Isn't that great? A work with so many different playing styles. I am very proud of it.
The record's producer, Bernard Fowler, recently said that "I Feel Like Playing" was the toughest record of your life because you are going through a tough period.
Ron Wood: That's right, but at the same time music has a healing effect for me at the moment, downright spiritual. As you probably know, I moved out of my home and changed my life completely. I've found a new freedom. The music comes straight from my heart, it reflects my soul, so to speak. It is very similar to painting, by the way.
What exactly did your last rehab do?
Ron Wood: Since changing my life, taking a regimen and being dry for months, I've seen a lot of things more clearly and got my life back on track. I concentrate on my things again, enjoy life and playing guitar, creativity. I am having a really good time in my life right now and have regained control of my skills, my music and my art.
Can this be heard on, I Feel Like Playing '? Or better: can you hear this yourself?
Ron Wood: Yes, of course. There is a new clarity in what I do. And that's exactly what I'll do the next time I work with the Stones. A solo album is a good opportunity to get things back under control and take more care of the arrangements of the pieces. All of this is sharper again, more contoured and is getting better and better.
Back to overview
Friends & colleagues
If you look at the list of musicians involved in 'I Feel Like Playing' you will discover world stars and true luminaries, all of whom are personal friends with Ron Wood: Slash, ZZ top guitarist Billy Gibbons, Flea from the Red Hot Chili Peppers , Bobby Womack, Jim Keltner, Ian McLagan, Kris Kristofferson, Steve Ferrone, Waddy Wachtel and his Rolling Stones friends Darryl Jones and Bernard Fowler.
Bringing them all under one roof was, however, a logistical feat, because normally musicians in this artist hemisphere don't just sit at home and wait for engagements, but are constantly active and usually booked months in advance.
But of course all these stars know each other and of course it tickled their ego to be able to play on a solo album by Ron Wood.
Can you briefly explain what the initial spark was for the disc and when it took place?
Ron Wood: To be honest, it came about by chance and also surprised myself. My friend Steve in Los Angeles, who is a big fan of my music and my art, said a few years ago at Christmas time: "I have a little one for you Studio rented for tonight, Jim Keltner will be there and also Ivan Neville . "
I replied, "Great, I'll bring my friends Flea and Bernard Fowler with me." I hadn't really planned to record an album, but somehow it was about time. I said, "We should record the session." I had written a few tunes, for example, for 'Why Do You Wanna Go And Do A Thing Like That For', a few snippets of 'Gotta See' that I had experimented with. So we recorded these two songs. It went really well.
But if I didn't get it wrong, I Feel Like Playing 'was made in very different studios.
Ron Wood: That's right. We recorded in different locations, there were a total of six different studios in and around Los Angeles where we put the entire project together.
Drummer Jim Keltner is said to have been working with Jerry Lee Lewis on Last Man Standing 'at the time, which you were also involved in.
Ron Wood: Right, Jim recorded with Lewis, and I also recorded a few things for him. Anyway: When Jim Keltner flew to Memphis, Tennessee to work for Lewis, I brought Steve Ferrone into the studio, and I also asked Darryl Jones if he would like to participate.
He only had a short time, but that's how it went the whole time: Whenever someone was in town, I would bring them into the studio and let them contribute something to the album. Sometimes Flea was there, then he had to go, so I got Darryl Jones or Rick Rosas. Or Slash or Billy Gibbons from ZZ Top.
Slash said to me, "Ronnie, if you play on my album, I'll return the favor on your disc." Billy Gibbons was in town and stopped by the studio. Before I knew it, there was a lively circulation of musicians who were all playing on my album. It really was an extraordinarily productive time.
Back to overview
Jagger & Richards
On April 14, 1975, Ron Wood joined the greatest rock band of all time. His musical career, which by then had already been extremely successful, was thus acclaimed.
Wood had joined the Birds in the mid-1960s and moved to the Jeff Beck Group in 1966. In 1969 he joined the Small Faces and, after the band name had been shortened to The Faces, led the conceptual command together with Rod Stewart.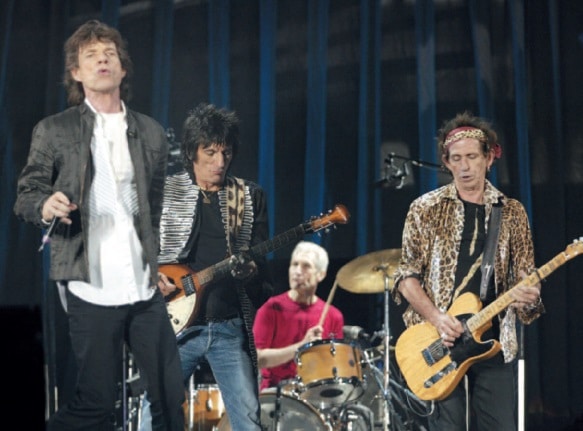 Wood and The Faces stayed together until 1974, when Ron Wood emancipated himself with his solo albums "I've Got My Own Album To Do" and "Now Look" before he finally accepted the Rolling Stones offer.
With them he released numerous rock classics, including 'Black And Blue', 'Some Girls',' Tattoo You ',' Steel Wheels', 'Voodoo Lounge', 'Stripped', 'Bridges To Babylon' and, most recently, ' A Bigger Bang '.
Ron, you first saw the Rolling Stones in 1964 at the Richmond Jazz & Blues Festival. What was your impression of them back then?
Ron Wood: I saw them and thought: They should be a hell of a lot of fun playing with them. And who knows, one day I might be there ... In the meantime I played with the Birds, with Creation, the Jeff Beck Group and with Rod with The Faces.
I met Mick Jagger and Charlie Watts more and more often at parties. Shortly after Mick Taylor dropped out, I asked Mick Jagger at one of these parties what the Stones were up to. He said, "What are we going to do? No idea. Would you be interested? "The first time I refused:" No, I don't want to let The Faces down. "
Mick took it cool: "Can I at least call you if we are embarrassed?" I said: "Sure man, you can call me anytime." A year later I had him on the phone: "Hey Ronnie, we are embarrassed ..." The faces were already more or less dissolved anyway, so I agreed.
Did you follow Mick Taylor's guidelines in the early years?
Ron Wood: First of all, because I was a big fan of him and his very melodious playing. I knew him from his group The Gods, who sometimes performed with my Birds. Mick Taylor unfortunately had very little confidence and thought he wasn't good enough for the Stones.
That was utter nonsense, of course, but I have to admit that I wasn't particularly surprised when he left the band. I also knew that Mick was very disappointed not to have any of his compositions with the Stones.
The same always applied to you in the past: With the exception of 'Dirty Works', on which you were allowed to compose several songs with Jagger and Richards, you were never really happy with your artistic influence on the Stones, were you?
Ron Wood: Of course I would like to put a few more of my songs with you, but Mick and Keith are incredibly well coordinated with each other. I almost always have some pieces that would suit them, but it remains difficult.
I would be happy if you would even listen to my pieces seriously, you could say: "Forget it, this stuff is crap." But you could at least give my pieces a chance.
What did Jagger and Richards say about your new solo album?
Ron Wood: Mick Jagger gave me a lot of encouragement when he heard some of the songs at a very early stage. He said the pieces sounded really very good. I have no contact with Keith Richards at the moment, as he is currently very busy with his Pirates Of The Caribbean and otherwise spends time with his family.
I was very busy myself and traveled a lot in the area. I last saw him last year when he came to London shortly after leaving home.
Back to overview
Art & painting
Ron Wood has an astonishing number of talents, not only in musical terms: his oil paintings, etchings, lithographs and woodcuts achieve remarkable sales prices. Wood attended Ealing Art College in London in the sixties and has painted continuously since then. However, only since he was able to demand considerable sums for his works of art - and got them paid - he started painting seriously. One of his works adorns the front of 'I Feel Like Playing'.
Were there years in your life when you lost interest in painting?
Ron Wood: No, I never lost touch with it, I always felt the feeling for the painting. However, for many years I couldn't even imagine that any money could be made with it. When I was pretty burned down in the eighties, I thought to myself: Wait a minute, I could earn a few extra pounds by painting. I was living in New York at the time and thought that this would at least finance my grocery shopping. It started with that and quickly took on sensational dimensions.
Do you have specific role models?
Ron Wood: You mean my influences? Well, almost all of them come from my younger years at art school. Georges Braque and Pablo Picasso on the one hand, and on the other especially Caravaggio and Diego Velazquez. So the classics. I also like Rembrandt and love mixing all of these different styles to create my own expression.
What does painting mean for your daily structure at the moment?
Ron Wood: In the current situation, it is of course good for me to always be busy. That's why I take care of my art exhibitions, I opened a museum in Ohio and I'm still very creative.
Back to overview
Strat & Esquire
Wood is a traditionalist through and through. He is mostly suspicious of modern technology, innovations or evolution largely take place without him. This applies to the composition, but also to his equipment.
What guitars does Ron Wood play?
Ron Wood is a big guitar fan and can usually be seen with Fender Stratocaster models, although the '55 Sunburst Strat from the old Faces times is still his main instrument. Another of his trademarks is the "Gibson SJ-200 Ron Wood Signature", which is equipped with two pickguards - on both sides of the sound hole.
More guitars from Ron Wood: a Ron Wood Signature Tele from ESP, a Duesenberg Ron Wood Signature Pearltop, a Zemaitis and a Fender Custom Shop Strat. Ronnie also plays pedal steel (Emmons), lap steel (Weissenborn), mandolin (Gibson) and sitar guitar. Of course this is only a small part of his extensive collection and he now prefers to leave the real treasures at home as numerous guitars have been stolen from him on tour.
Which amplifiers does Ron Wood use?
Ron Wood prefers Fender amps (including Fender Twin Reverbs and Blues Deluxes), with the Stones he usually plays via a Vox AC-30 and a Fender Vibro-King, which are set to the correct volume via external power amplifiers and mesa / boogie boxes . Level to be brought. Ronnie prefers to use Gibson archtops (e.g. a Super-400 or the L-5) for warming up backstage.
Effects? Only if it's absolutely necessary: ​​Rat Distortion, TC-2290, Zoom 9120 ...
What part of the very earthy sound of the new record does your current equipment, which is apparently based mainly on Fender equipment, have?
Ron Wood: A decisive one, because the amps I mainly use are the Fender Tweed, the Super Twin and, for some songs, the Champ. However, on I Feel Like Playing, I also played a little keyboard, in the piece, Sweetness My Weakness ', for example, a little Hammond organ. I asked Slash mainly about his Les Paul sound, he's the prototype of the Gibson guitarist, but I mainly play the Fender Stratocaster and the Esquire.
I only recently saw the Esquire in the photos of the Faces reunion, right?
Ron Wood: That's right, probably also my 55 Strat, which I use a lot both on stage and in the studio. By and large, it's still the same material that I used in the late sixties and early seventies. Unless it was stolen from me. It's a shame: you turn around and it's gone. Nobody saw anything, nobody knows who did it, it's just gone.
Right now, the 1955 Stratocaster is your favorite instrument, isn't it?
Ron Wood: That's right, I've swear by this copy for many years. It has great wood and very pleasant handling. I like it when you have a familiar feeling about a guitar. I don't have to keep trying new things.
The songs on, I Feel Like Playing 'are all in standard tuning. Don't you love experiments that much?
Ron Wood: Well, I think the standard tuning suits me best. However, I experimented with a different mood on the pedal steel guitars in Why Do You Wanna Go And Do A Thing Like That For.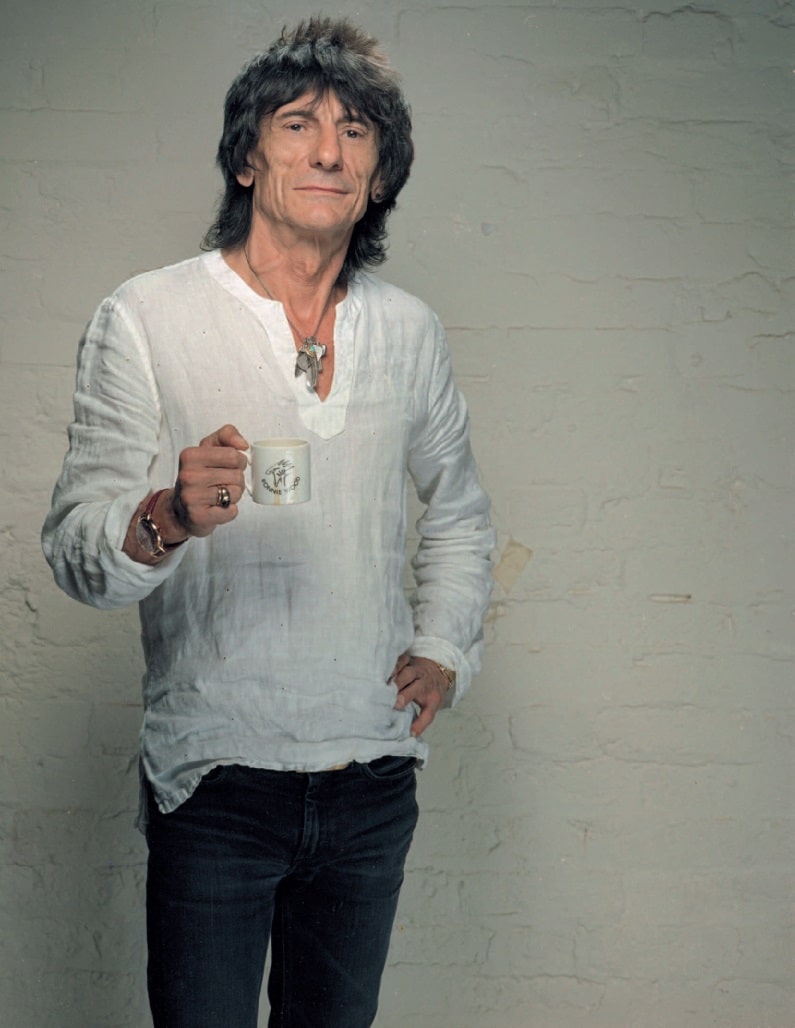 Rod & Faces
Announced for years, the cult band The Faces has been back since autumn 2009. Without Rod Stewart, but with a more than surprising cast. The Faces are currently giving a few selected concerts in Europe and are planning a world tour for 2011. Wood may already be providing a follow-up job that will help secure his income after the Rolling Stones' planned farewell tour.
The Faces reunion is currently making waves, even if Rod Stewart does not go along as hoped. But at least you've found a top-class replacement in Mick Hucknall from Simply Red, if you can believe the previous press releases.
Ron Wood: Yeah, Mick Hucknall is a great guy. Incidentally, also our bassist Glen Matlock, who used to be with the Sex Pistols. It's a great mix of different musicians with whom I can pass the time before the Stones go on tour again.
Why is Rod Stewart not there, contrary to his announcement?
Ron Wood: I don't really know, to be honest, because the connection has been completely lost for a few months. We waited in vain for months for his acceptance and finally decided not to make the Faces reunion dependent on Rod at some point announcing when he has time for us.
We didn't want to get cold feet and since Mick Hucknall can sing like Rod in the seventies, so all the high grades, he's the right man for us. But of course Rod has a blank invitation: Whenever he wants to join us, he's warmly welcome.
Thank you Ron, for the nice conversation and all the best for the future!
Author: Matthias Mineur
Find out more about the Stones - in our Interview Special!
Back to overview
Ron Wood discography
Solo albums
I've Got My Own Album To Do (1974)
Now Look (1975)
Mahoney's Last Stand (1976)
Gimme Some Neck (1979)
1234 (1981)
Slide On This (1992)
Not For Beginners (2001)
I Feel Like Playing (2010)
Live albums
Live at the Ritz (1988)
Slide on Live: Plugged in and Standing (1993 /)
Live and Eclectic (2000)
Buried Alive: Live in Maryland (2006)
The First Barbarians: Live from Kilburn (2007)
The Rolling Stones
Black and Blue (1976)
Some Girls (1978)
Emotional Rescue (1980)
Tattoo You (1981)
Undercover (1983)
Dirty Work (1986)
Steel Wheels (1989)
Voodoo Lounge (1994)
Stripped (1995)
Bridges To Babylon (1997)
A Bigger Bang (2005)
Blue & Lonesome (2016)