Is the largest travel backpack in 2019
Backpacker backpack test 2020: the best travel backpacks
In the photo gallery (above) you can find the 2020 travel backpacks we tested in detail. All test results and many other tips on travel and trekking backpacks can be found here. Alternatively, you can download the complete test report as a PDF:
Buy complete article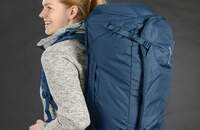 Issue 01/20 Test 2020: Travel backpacks
You will receive the complete article (6 pages) as PDF
In this article:
Travel backpacks 2020 - the test results at a glance
What speaks for a special travel backpack / suitcase backpack
How the tested travel backpacks carry
Our test conclusion
For which tours we recommend a trekking backpack
Trekking backpacks tested by us in detail
If you are planning a backpacking trip, you usually want to do both: experience nature and explore cities. Changes of location are the order of the day, packing and unpacking. This is also possible with a trekking backpack, but so-called travel backpacks offer more comfort. They can usually be packed like a suitcase through a large front opening, while covers or protective bags hide the carrying systems. As a result, the belts can no longer get caught in conveyor belts and tear off on air travel and the luggage looks more serious.
"The concept is really well received: No other backpack segment is growing faster at the moment," says equipment editor Boris Gnielka. The buyer also benefits from this. Never before have there been so many different travel backpack models - this is also shown by our 2020 test, in which we put a total of 16 travelpacks for women and men under the microscope.
Travel backpacks 2020 - test results at a glance
The backpacking backpacks in our test cost 190 to 299 euros (daily updated price comparison see below, if already available), over half of the candidates have only been available since this season. The smallest backpacks in the test are hand luggage size and hold almost 40 liters, the largest swallowed more than twice as much. When measuring out, however, two travel backpacks turn out to be significantly smaller than specified by the manufacturer: The Pacsafe Venturesafe EXP45 has 38 instead of 45 liters, and the Thule Landmark 70 only fits 60 instead of the 70 liters.
When it comes to design, there is something for every taste in our travel backpack test: The spectrum ranges from backpacks in traditional trekking style (Lowe Alpine Kulu 65:75) to suitcase-like candidates such as the Jack Wolfskin TRT 65 in a robust bushcraft look to the no-frills, travel bag-like travel backpacks by Deuter and Thule. The manufacturers set different priorities for the equipment, but always go to work with the same wealth of ideas as when developing their hiking backpacks.
Lisa Rädlein
Practical: a detachable daypack. Deuter's one is parked in an extra drawer.
What are the strengths of the travel backpacks that have been tested?
Nine of the travel backpacks tested have a detachable daypack on the front that can be used as hand luggage during the flight. Ideally, it can also be clipped into the shoulder straps, as with Bach, Thule or Jack Wolfskin. "It takes some getting used to, but offers tangible advantages," explains Boris Gnielka. On the one hand, you can always keep an eye on valuable items such as wallets, papers and the camera, and on the other hand, this creates a fairly even weight distribution, which improves carrying comfort.
Deuter and Pacsafe also deserve great praise for the foam-reinforced side walls. "They keep the empty rucksack in its shape and are very easy to pack," says Gnielka. In addition, Pacsafe sets standards in terms of theft protection: an extra steel mesh insert makes the material cut-resistant, the zips made of two rows of teeth lying one above the other (one is common) can no longer be pressed on with sharp objects. There is also a central locking point for all slides. A steel cable is also included to keep the backpack on a leash - useful if you fall asleep briefly during a train journey or while waiting in the terminal.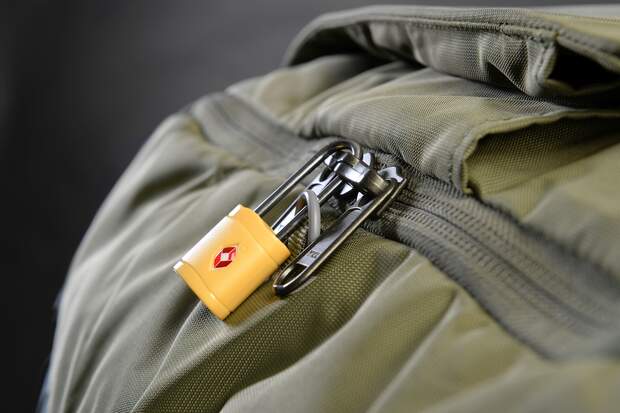 Lisa Rädlein
Better safe than sorry: a central locking point for the zipper slider.
The Eagle Creek Global Companion - besides the Pacsafe the only backpack in hand luggage format - also scores with very well thought-out features: It consists of two halves connected by a circumferential zip and is simply opened like a conventional suitcase. The padded notebook compartment close to the back can also accommodate large 17-inch laptops.
The quality of the materials and workmanship of all tested travel backpacks is at a high level, but the Bach Overland scores even better than the other test candidates in the field. Its thick Cordura fabric is extremely robust, the coarse, covered zippers with nickel-plated sliders last forever and are relieved by compression straps. The Bach Overland is therefore also recommended for world travelers who are on the road for months.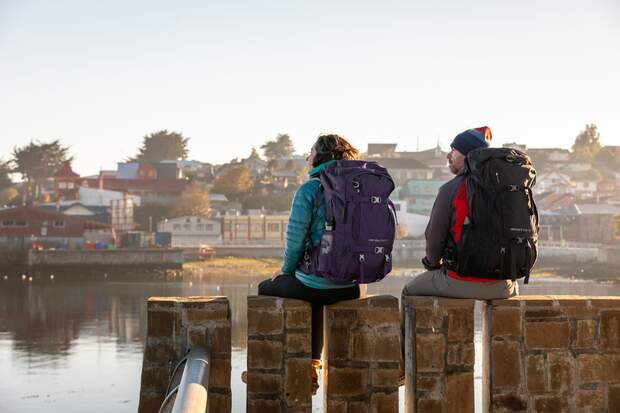 Osprey packs
The two Osprey models Fairview Trek 70 (women) and Farpoint Trek 75 (men) swallow a lot of luggage - two good all-rounders for treks and trips.
How is the current generation of travel backpacks carried?
All in all, pleasantly good. The models from Bach and Lowe Alpine are still comfortable even with a 20 kilo load - the right choice for tent tours of up to a week. Both score points with their controlled, supple fit and allow freedom of movement thanks to their flexibly suspended hip belts. The Jack Wolfskin TRT 65, which is just as heavy-duty but slightly stiffer, follows closely on your heels.
In addition, the Osprey Farpoint Trek 75 and the women's version Fairview Trek 70 are among the packhorses in the test field (see picture above). But they gamble away a place in the front ranks due to the restricted head and freedom of movement. But thanks to the airy mesh back, they offer first-class ventilation and can also be opened / loaded from the front.
Also strong: the Gregory Tetrad 60 and the women's counterpart Gregory Tribute 55. Their upper load limit is 16 kilos - enough for tent tours with light luggage or hikes in huts. The two travel backpacks in hand luggage format (Pacsafe Venturesafe Exp45, Eagle Creek Global Companion 40L) are also convincing. They are suitable for day hikes and hut tours and are comfortable to carry at 10 to 12 kilos - which is completely sufficient for this backpack volume.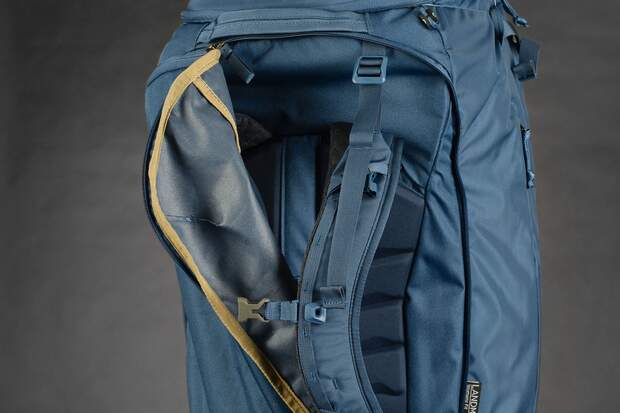 Lisa Rädlein
Many models offer a carrying system cover. It protects the straps and upholstery from damage in transit.
Travel backpacks 2020 - our test conclusion:
Modern travel packs are fun when traveling. In addition, the 2020 travel backpack test field offers the right backpack model for every use.
The best all-round backpacking backpack is the enormously durable and spacious Bach Overland. The inexpensive Lowe Alpine Kulu 65:75 (women's version: Kulu ND 60:70) also deserves a buyer's recommendation.
If you can handle a little less volume as a backpacker, the favorites are Gregory Tetrad 60 (men) and Tribute 55 (women), while the travel backpacks in hand luggage format from Eagle Creek and Pacsafe show their strengths on day hikes and short hut treks.
The Deuter Aviant Access Pro is the perfect complement to one of the hand luggage models as an alternative to the duffle bag or classic travel bag.
Of course, the same applies to travel backpacks, as to all other backpacks: Try on before the first tour! If possible, have it set on your back in a specialist shop and carry it for a while when fully loaded.
Alternative trekking backpack - 4 top models:
For those who often spend several days with their backpacks - that is, they hike a lot with them - we recommend one of these four new trekking backpacks 2020, which we have already been able to test. Only with such a trekking backpack can the equipment for long tours with a tent or a lot of luggage Because be transported comfortably:
1 - Thule Versant 60 Men / Women's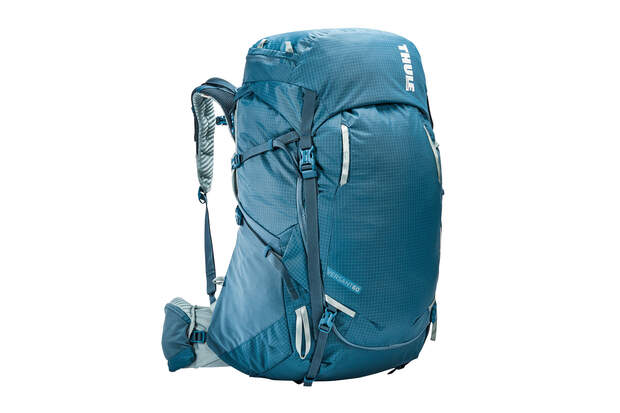 Thule has revised the Versant light trekking backpack line for 2020. The tested 60-liter version offers the ideal compromise between low weight and sufficient volume for multi-day tours with a tent. Even more cuddly than its predecessor, the carrying system scores with comfort with a load of up to 20 kilos. If you leave the lid and the intermediate bottom of the pack sack at home, the weight drops to just 1540 grams. Test result: Very good. Current prices here:
2 - Osprey Archeon 70 M / Archeon 65 W
With the new Archeon line, Osprey focuses on sustainability. Archeon 70 (women's version: Archeon 65) are the largest models in the series. In addition to these, the smaller backpack models Osprey Archeon 45, Archeon 30 and Archeon 25, each for men and women, will be launched on the market shortly (see video):
The Osprey trekking backpacks are made of thick recycled nylon in a rough canvas look and mostly have metal buckles. The carrying system pleases with its body-hugging, hardly constricting fit and high load transfer (up to 25 kilos). The equipment also offers everything you need. Test result: very good. (Not yet available in our partner shops, but soon. Prices for the large Archeon 70 Men's / Archeon 65 Women's models are expected to be around 300 euros)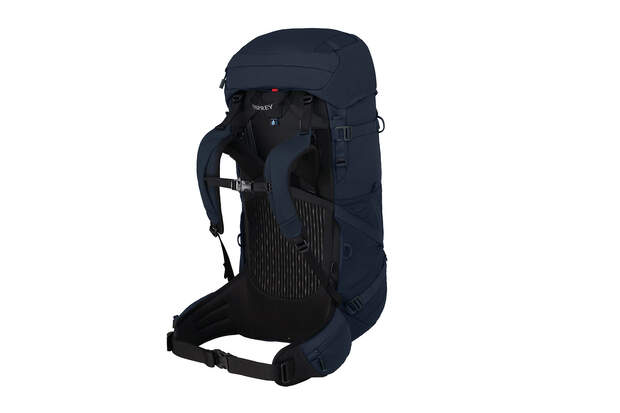 Two trekking backpacks even impressed with an outstanding performance in our 2020 trekking backpack test: the very light Gregory Paragon 58 (women's model: Gregory Maven 55) is recommended for tours of up to a week, the large Deuter Aircontact Pro for even longer treks. "Even the best backpack, however, does not change the fact that heavy luggage slows down the forward thrust." On average, you can only manage half to two thirds of the route of a day's hike - this should be taken into account when planning the stages.
3 - Deuter Aircontact PRO 60 + 15 / Aircontact PRO 55 + 15 SL
If market leader Deuter gives the flagship trekking backpack a facelift, expectations are high. The Aircontact Pro not only fulfills this in the test, it surpasses it!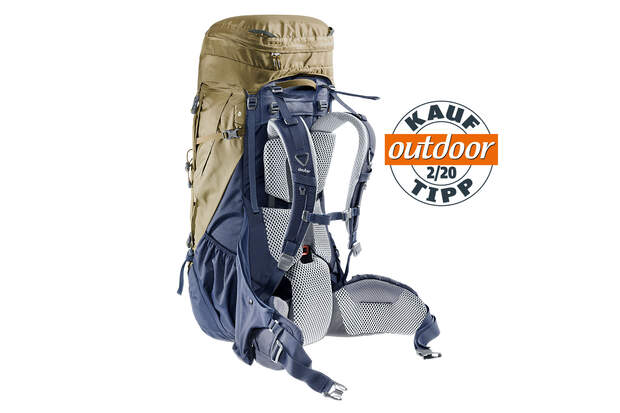 Even with a 30 kg load, the Deuter Aircontact PRO 60 + 15 (women's model: Aircontact PRO 55 + 15 SL) is as comfortable to carry as other trekking backpacks with 22 kg. This is due to the even load distribution on the iliac crest, loin and back as well as the flexible, not too loosely attached hip belt. Also great: the equipment. Test verdict: Outstanding. Current prices here:
4 - Gregory Paragon 58 / Maven 55
Innovative: In the newly launched Paragon lightweight trekking backpack (women's version: Maven), the hip belt and lumbar pads are made of stretched mesh material. It is almost imperceptible to the body and distributes loads of up to 25 kilos without any pressure.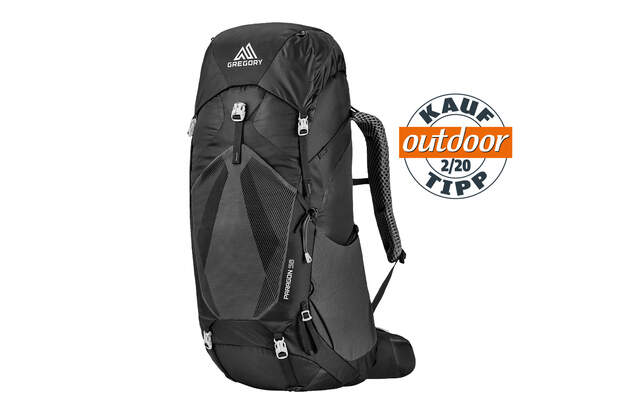 The classic back support in the shoulder area, on the other hand, enables a body-hugging, controlled fit. Another plus of the Gregory trekking backpack: the low weight of just 1620 grams. Test result: Outstanding - also applies to the Gregory Maven 55 women's backpack. Current prices here:
Backpack know-how and packing instructions
"A comfortable backpack plays a much more important role on multi-day tours than on day hikes," says equipment editor Boris Gnielka. Because the camping equipment for trekking tours - i.e. tent, sleeping bag, sleeping mat, spare clothing, stove, fuel and food for several days - quickly piles up into an impressive mountain.
"All in all, it weighs 18 kilos and more, the tour lasts over a week and the luggage even weighs over 25 kilos." This may put off beginners, but with a good trekking backpack, the weight can be carried comfortably for hours.
When packing, heavy, compact items such as fuel, muesli, bars and chocolate should be placed close to the back and stabilized with lighter items in front of them. So the backpack pulls less backwards. What is needed during the day goes in outside pockets or in the lid compartment. Waterproof lightweight pack sacks, such as those from Ortlieb or Sea-to-Summit, protect against moisture and create order.
For download: The outdoor packing list PDF0.05 Mbytes
More trekking backpacks tested by us in detail:
Large trekking backpacks in comparison - test results
Price comparison:
More:
This article may contain links to providers from whom outdoor-magazin receives a commission. These links are marked with the following icon: